Otjikoto Lake
Lake Otjikoto: Northern Namibia's tourist attraction, mystery & natural wonder
Lake Otjikoto is located 20 km north of mining town Tsumeb, well signposted just off main road B1. This mysterious attraction is open daily sunrise to sunset. Lake Otikoto is around 100 m from the main road amongst the trees, hardly to be missed.
When the sun shine the water looks very blue and clear. It is possible to climb down to the lake shore via a rock stairway, this is not encouraged and swimming is forbidden. Just before you reach the lake there is another road on the right hand side, the D3043. If you follow this for 19 km and then a turn onto the D3031 you will find yourself beside Lake Guinas. It is clearly signposted, but the site has not been developed yet. There is no easy access to the lake shore as the sides are precipitous.
One of the most mysterious attraction, Lake Otjikoto, is found around 20 km north Tsumeb, a mining center of Namibia.
Lake Otjikoto is located on a land which was once a part of a farm owned by Tsumeb Corporation Ltd mine. The lake is a popular stop by for a many of local and foreign travellers each day. It is a deep and wide structure, formed thousands of years ago as a result of the collapse of dolomite rocks arch. It is surrounded by different plentiful vegetation, including the rare python tree. The rock roof collapsed due to underwater weathering and stress.
If you are able to visit Lake Guinas in May you will see it at its best surrounded by flowering aloes on the rock faces. The rusty remains of a large steam pump lie nearby, a legacy of efforts in the 1920s to irrigate local citrus orchards. Both the lakes lie on private farms and as you can imagine, they are popular with scuba divers. This is a very complex form of diving and should not be attempted by inexperienced divers.
The lake is 120 m long and 100 m wide. Its depth remains a mystery to this day due to the fact that nobody has ever reached lake's bottom. "The water underneath is running, and gives a lot of pressure as one goes deep down. The water pressure is so large that it can even damage a diver's ears. The furthest some divers have gone is 145 m deep.
Another interesting Otjikoto Lake's feature is that it becomes wider closer to the bottom.

Many tourists stop to visit the Lake Otji­koto heritage site daily to view it, the structures and surroundings, getting history facts about the lake. A craft shop selling crafts from the Hai-//om San bushmen people who live in surroundings of the lake is also on site.

Apart from being a tourist attraction, the lake is also a good source of agricultural water. It irrigates two nearby farms, and also supplies a nearby location with water. The water is confirmed to be safe for irrigation and household use.

During the First World War (1914-1918), as Germany mobilized soldiers and resources from its colonies, including Namibia, then German South West Africa, the Germans were mining copper at the Tsumeb mine. The copper was shipped to Germany as a war supply. Mining requires vast amounts of water and the Germans drew water from the lake to the mine using a steam pump, still staying on the lake edge. Metal pipes from the lake to the mine at Tsumeb are still visible, also in a good condition.
After losing in battles to the Allied Forces during the war, the German troops threw all their guns and ammunition into the lake, including cannons, machine guns and other heavy weapons.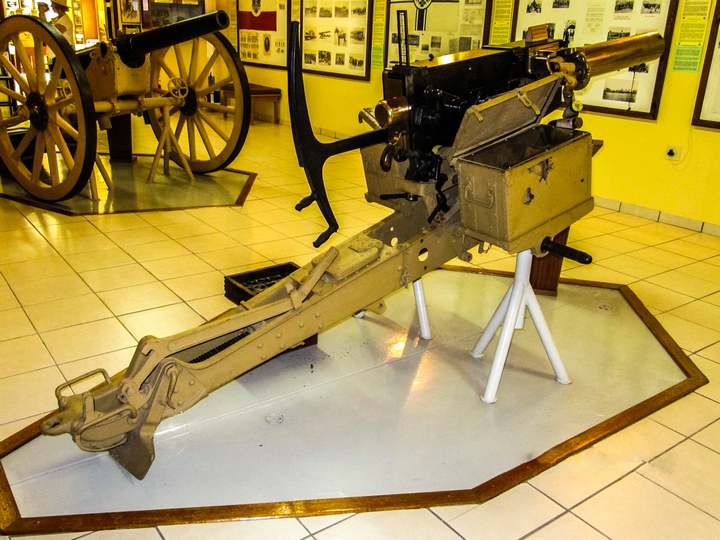 Some have been retrieved over the past years and are displayed in the Tsumeb Museum.

Others are still at the bottom of the lake, with no chance of ever being pulled out. Although deep and dangerous, Lake Otjikoto is a scene of divers training exercises.

Divers from the Namibian Police in Windhoek, Kavango and Oshakati regions and some divers from private schools and clubs come here for training.
Otjikoto Lake, surrounded by rocks, can be dangerous - it is advisable not to come too close to lake's edge due to a danger of a person falling in.
The chances of surviving are slim because there are no divers or rescue equipment on site.
However no drowning had been reported since German postman Johannes Stephanus Cook drowned here while swimming with friends on 16 October 1927. His body was never found.
Lake Otjikoto is open from Monday to Sunday: 08h00 - 17h00.
Contact:
E-mail: info@namibweb.com
Reservations are only accepted in writing: by fax or via e-mail.
Final availability confirmation: in writing: by fax or via e-mail.

Terms & conditions, Payment options and Cancellation policy
Related:
Page created and serviced by



www.namibweb.com

Copyright © 1998-2019 NamibWeb.com - The online guide to Namibia
All rights reserved | Pond5 | VIDEO LIBRARY
Page is sponsored by ETS & www.namibweb.com
Disclaimer: no matter how often this page is updated and its accuracy is checked www.namibweb.com and ETS will not be held responsible for any change in opinion, information, facilities, services, conditions, etc. offered by establishment/operator/service/information provider or any third party