Oguma Bush Camp: Basic accommodation consists of 6 en-suite air-conditioned luxury bungalows, and 1 family room. Bush Camp i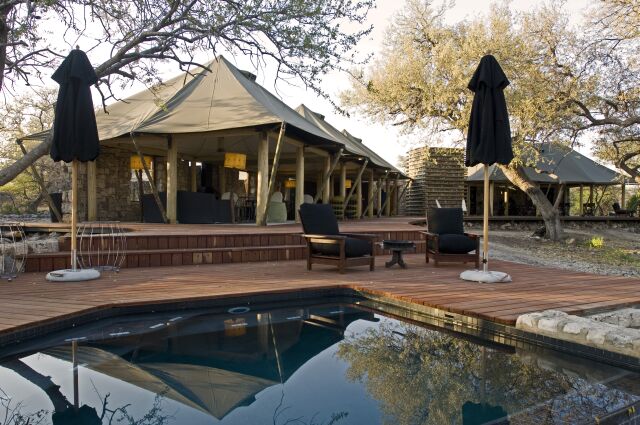 s ideal for families who would like to have a base from which they can explore Etosha National Park. Upon your return, relax and cool off around our pool while watching a spectacular sunset.
Dinner is served at our open lapa area. Here you will be treated to an excellent combination of European and traditional African cuisine sitting around an open fire under an African sky lit up by the stars.
Picnic baskets are also packed on request.
Bush Camp is child friendly.
Onguma Camp site offers 6 camping sites with ablution facilities and firewood. Campers are welcome to relax in the beautiful surroundings and are even more welcome to enjoy either breakfast, lunch or dinner at Bush Camp.
Tsumeb Museum video:
Onguma Tented Camp: Onguma Tented Camp is a beguiling mixture of sophistication and relaxation, of elegance and the earth. It is this intriguing combination and attention to detail that makes Onguma Tented Camp, the latest in Visions of Africa's up-market portfolio of camps, the ultimate in safari chic.
In the local Herero language, Ongu

ma means, "the place you don't want to leave." With a stunning main building and seven tents providing private, exclusive accommodation, Onguma Tented Camp, certainly lives up to its name. Like the bush where soft air blows against sharp thorns, Onguma Tented Camp is a study in contrasts. Textures such as stone, suede, linen and steel create a setting that is sleek and modern but also inherently of the earth. Inspired by a photograph of an Oryx on Etosha's Fisher's Pan, the interior echoes the colours of its natural surrounds. Grey, charcoal, black, white, and creams, together with a touch of muted or unexpectedly bright green, adds sophistication and earthiness to the atmosphere.
An atmosphere of elegant dining prevails, complimented by the daily activities taking place around the watering hole, approximately 60 metres away. The surrounding nature lends itself to long lazy afternoons, spent relaxing on the sofas in the lounge, watching the animals go. And when things heat up, all that is required is a gentle stroll to the rim flow pool. Sit and relax in the flowing waters while enjoying an ice cold cooler. Alternatively if more strenuous activity is required, then relaxing on your patio and reading a good book should provide you with all the exercise you may need. Unfortunately no children under the age of 12 permitted.

Onguma Plains Camp: Etosha National Park, the largest National Park in Namibia with vast endless plains and salt pans is home to Fisher's Pan, situated on the eastern border near Namutoni Gate.
It is here that Onguma Plains Camp will establish itself as the flagship of Onguma Safari Camps. Unique and ultra modern in design, Plains Camp will be the epitome of luxury in the bush!
Facebook groups:
Rates: on request
Onguma Tented Camp (no children under 12 years old):
7 tents
Dinner, bed and breakfast per person
-
Full board + activity per person
-
No 3rd bed in tents
Onguma Bush Camp, bed and breakfast:
3 bungalows, 3 rooms and 2 family rooms

Bed and breakfast per person sharing
-
Onguma Tree Top Camp, 4 tree houses (no children under 12 years old):
Accommodation, all meals, beer, wine, soft drinks and activities, transfers from and to the Mokuti airstrip
Per adult
-
Onguma Plains Camp, accommodation, transfers from and to the Mokuti airstrip (no children under 12 years old):
12 Bush Suites
Dinner, bed and breakfast per person
-
Full board + activity per person
-
1 Fort suite
Dinner, bed and breakfast per person
-
Fully Inclusive per person
-
Activities per person
| | |
| --- | --- |
| Morning Game Drive | - |
| Afternoon Game Drive | - |
| Fully day Game Drive including lunch | - |
Onguma camp sites: 6 camping sites
Per person, maximum 4 persons & 2 tents per site. Each campsite has its own shower, toilet and power point. One bundle of fire wood is provided. The camp site is serviced on a daily basis.
Per adult
-

Per child (3-12 years), under the age of 3 years: free of charge

-
Full board and fully inclusive basis starts with lunch on day of arrival unless alternative arrangements have been made.
The //Heikom Bushmen Development Trust was formed in 2008 to uplift the //Haikom Bushmen community around Onguma Game Reserve.
A levy per person per night is applicable and is payable by each guest upon departure.
---
Archives
June 2013
Onguma Game Reserve now offers their guests the opportunity to start their safari from the moment they touch down at their private Airstrip!

Please take note of the important information received from Onguma below:
Airstrip Specifications
Latitude: S 18 43.873'
Longitude: E 17 02.881'
Elevation: 1085m
Width: 20m
Length: 950m
Surface: Clay and Gravel
Orientation: East -West
Windsock: Size: medium, Colour: Orange, located south of Runway, next to aircraft parking area
Tiedown cables: 6m spacing in parking area
Fuel: not available
General Information:

* Unfortunately no refuelling facilities.
* Please ensure that the correct airfield is communicated to us when the booking is made.
* Please ensure that the correct ETA is forwarded to our reservations department along with your booking confirmation and clearly state that guests will be landing at the Onguma Airfield.
* The travelling time from the airfield to any of the Onguma camps is approximately 20minutes in open game drive vehicles.
* Facilities at the Onguma airfield include a 3 X 4m cement run-up apron and a thatched lapa with fire extinguisher.
* No landing fees are charged for Onguma guests.
Hazards:

* Do not use when wet, surface is clay and can be very slippery.
* Termite mounds next to runway thresholds on both approaches.
* Powerlines 1000m east of eastern threshold.
* There is a long firebreak 70 m south of the runway, do not land on this.
* NB: this field is unfenced and extreme caution should be exercised to avoid game on or next to the runway.
---
Contact & reservations:
E-mail: info@namibweb.com

Reservations are only accepted in writing: by fax or via e-mail.
Final availability confirmation: in writing: by fax or via e-mail.

Terms & conditions, Payment options and Cancellation policy
Page created and serviced by



www.namibweb.com

Copyright © 1998-2023 namibweb.com - The online guide to Namibia
All rights reserved | JOIN | VIDEO PORTFOLIO | VIDEO/PHOTO COLLECTION
Telegram | YouTube | Blog
Page is sponsored by ETS & Exploring Namibia TV
Disclaimer: no matter how often this page is updated and its accuracy is checked, www.namibweb.com and ETS
will not be held responsible for any change in opinion, information, facilities, services, conditions, etc. offered by
establishment/operator/service/information provider or any third party
Images & description: Copyright © Visions of Africa