Ghost Town:
Tours from Luderitz: Kolmanskop,
Elizabeth Bay, Pomona/Bogenfels
KOLMANSKOP TOURS*: rates on request
A: Kolmanskop
One tour given twice per day, Monday to Saturday. The first tour at 9.30 AM and the second tour at 11.00 AM.
Sundays: 10.00 AM. Permits can be arranged before visitors drive out in their own vehicles to Kolmanskop.
After the tour visit the museum & restaurant which are open till 12.00. Restaurant serves light lunches from Monday to Saturday.
B: Kolmanskop special tour
A special tour for visitors who wish to have a tour outside the standard tour times given above.
Options: 08h00; 8h30; 14h00 or 15h00 (weather permitting).
Inside Kolmanskop ruins YouTube video:
C: Kolmanskop photo permit
Photo permit for hobby photographers allows access from sunrise to sunset for photography, price includes joining the 9.30 AM tour.
D: Elizabeth Bay & Kolmanskop combined tour
Kolmanskop and Elizabeth Bay tour, tour starts at 8.45.
Clients are collected from their hotel with operator's transport.
Minimum of 4 people and maximum of 8. No children under 14 years allowed on the tour due to searching & safety regulations.
No visits to Atlas Bay during culling operations.
YouTube video quad bike & other adventure tours:
E: Elizabeth Bay bus tours
This tour is for commercial buses with a minimum of 10 people in guests' transport, no children under 14 years old.
This tour starts from Kolmanskop.
No visits to Atlas Bay during culling operations.

F: Elizabeth Bay Special tour
This tour includes the following: Kolmanskop ghost town, Elizabeth Bay, Luderitz town and peninsula tour, Goerke Haus. Lunch packs and drinks are included. Tour starts at 8.45. Transport will be provided. These arrangements can be adapted to the requirements of fly-in safaris.
A minimum of 4 people.

G: Pomona/Bogenfels Adventure safari
Full day safari into the Sperrgebiet with the 55 m high rock arch at Bogenfels as our destination. The tour passes Kolmanskop and Grass Platz and about 20km along the tar road out of Luderitz is turning off into the Sperrgebiet at Rotkopf. After checking in at the security post Rotkopf tour continues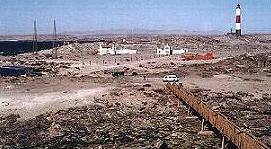 along the dirt road towards Grillental. Stop for pictures and a short history lesson. From there its another 20km to the Swartberg, turn off into a small mine road heading to Pomona. On route tour also passes numerous view points and several old buildings. At approximately 01:00 tour should reach Pomona. Guests may walk around and view the old ghost town and at approximately 1:45 lunch will be served in the old school. At approximately 02:30 tour departs towards the legendary Bogenfels passing through Fairy tale valley and a old diamond field. Arrival at Bogenfels is at 03:15 were time will be given to view the arch and also coffee will be served. At 04:30 tour departs back to Luderitz. Operator collects clients from their hotel at 9.00AM the tour ends around 17.30 PM, a minimum of 4 persons is required. It is not a self-drive tour (restricted diamond area).
Tour operates from Mondays to Fridays.
Rates: on request.
Kolmanskop abandoned town YouTube video:
H: Kolmanskop commercial film groups
Commercial filming as per written agreement. Must be booked and paid in advance.
I: Oyster Tours


Love oysters? Join for a tour with perfect ending! Tour starts in the oyster processing factory and ends with tasting of fresh Shearwater oysters and a glass of wine, beer or cooldrink. Duration: around 45 min. Departures: Mondays - Fridays: 12:00 and 15:00, Saturdays: 12:00. No tours on Sundays and Public Holidays.
Rates: on request.
Children under 12 years old: tour: FOC, extras: per item: on arrival.
J: Goerke House
The house is open to view Monday to Friday between 14h00 and 16h00. Saturday and Sunday 16h00 – 17h00.
K: Luderitz town tour
L: Diaz Point tour
M: Airport shuttle, one way/return
Kolmanskop town YouTube video:
NB : Requirements for entrance into the Diamond Area
The Elizabeth Bay and Bogenfels tours take place in the RESTRICTED DIAMOND AREA or SPERRGEBIET. Access to this area is controlled by the Protected Resources Unit of the Namibian Police through NAMDEB. A valid permit issued by the Namibian Police is required to enter this area.
In order to apply for this permit the following information is required by EACH guest willing to take part in the Elizabeth Bay or Bogenfels tour:
1) Full name
2) Nationality
3) Passport number
4) Home and street address
5) Home and work telephone/fax numbers
6) Accommodation establishment where you are staying in Luderitz

PLEASE NOTE THAT A MINIMUM OF 6 WORKING DAYS ARE REQUIRED IN ORDER TO APPLY FOR A PERMIT APPLICATION TO BE PROCESSED.
Facebook:
NAMIBIA: https://www.facebook.com/groups/namibia.namibia
LUDERITZ: https://www.facebook.com/groups/luderitz.group
TRAVEL NAMIBIA: https://www.facebook.com/groups/travelnamibia
DRONESBERG AERIAL PHOTO/VIDEO: https://www.facebook.com/dronesberg
Contact & reservations:
E-mail: info@namibweb.com
Reservations are only accepted in writing: by fax or via e-mail.
Final availability confirmation: in writing: by fax or via e-mail.
Terms & conditions, Payment options and Cancellation policy
Activities in the area:
Page created and serviced by



www.namibweb.com

Copyright © 1998-2023 namibweb.com - The online guide to Namibia
All rights reserved | JOIN | VIDEO PORTFOLIO | VIDEO/PHOTO COLLECTION
Telegram | YouTube | Blog
Page is sponsored by ETS & Exploring Namibia TV
Disclaimer: no matter how often this page is updated and its accuracy is checked, www.namibweb.com and ETS
will not be held responsible for any change in opinion, information, facilities, services, conditions, etc. offered by
establishment/operator/service/information provider or any third party
Description: Copyright © Ghost Town Tours & Mukorob Tours