| | |
| --- | --- |
| Alte Kalköfen Lodge & Camping | |
Alte Kalköfen Lodge is an exciting safari lodge venture and situated in the southern part of Namibia. The lodge consist of a state of the art restaurant, bar,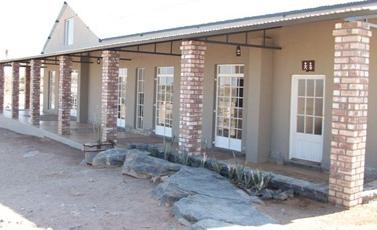 10 en-suite bungalows and camping sites. The name of the lodge is derived from two old ovens situated near the lodge and used in earlier years to produce lime. Lime was used in the making of bricks, cement and for agricultural purposes. Directly translated Alte Kalköfen means two limestone ovens.

The first oven was constructed with clay bricks during the late 1800's, presumably by a Mr. Sandberg. According to information he immigrated to the USA in 1938.
The second oven, that was a replica of the first oven, was built by a former Schutztruppe Mr. George Kottner during 1904 – 1908 on the farm Simplon. Karl Schneider then bought Simplon from Kottner and modernized the second oven to its current state in 1938.

Location
The lodge is situated 90 km west from Keetmanshoop in the direction of Luderitz and 2.5km South on district road D462.

GPS co-ordinates :
26 49.474' S 17 21.123' E

Construction of the lodge is based on Eco-Tourism principles to promote and conserve fauna & flora and to maintain the ecosystem of the area.
The bungalows are constructed on the edge of the Gurib River overlooking large Camel Thorn trees growing in the river bed, giving spectacular views of the surrounding area.

Activities offered at the lodge:
Nature drives
Guided hiking trials
Bird and game watching
Star gazing
Visit The Cole Lithoparium (largest collection of Lithops in the south of Namibia)
Visit the old Limestone ovens
Cole Lithoparium

A fascinating collection of Lithops, also known as "Flowering Stones", can be viewed in a special constructed hothouse.

Johan Burchell discovered Lithops in 1811 when he stated: "On picking up from the stony ground what was supposed to be curiously shaped pebble, surprisingly proved to be a plant".

Lithops, that resembles pebbles and stones among which they grew in the African habitat, have become favourites of the succulent viewing public.

The hothouse is named after Professor Desmond and Mrs. Naureen Cole in recognition for pioneers work done in the Lithops genus.
The Ovens:
Facebook:
NAMIBIA: https://www.facebook.com/groups/namibia.namibia
TRAVEL NAMIBIA: https://www.facebook.com/groups/travelnamibia
KEETMANSHOOP: https://www.facebook.com/groups/keetmanshoop.namibia
MARIENTAL: https://www.facebook.com/groups/mariental.namibia
DRONESBERG AERIAL PHOTO/VIDEO: https://www.facebook.com/dronesberg
Rates per person per night, bed and breakfast: on request
Single/double room
-
Camping per person, max 6 persons per site
-
Meals per person
Lunch | Dinner
-
Contact & reservations:
E-mail: info@namibweb.com



Reservations are only accepted in writing: by fax or via e-mail.
Final availability confirmation: in writing: by fax or via e-mail.

Terms & conditions, Payment options and Cancellation policy

Page created and serviced by



www.namibweb.com

Copyright © 1998-2023 namibweb.com - The online guide to Namibia
All rights reserved | JOIN | VIDEO PORTFOLIO | VIDEO/PHOTO COLLECTION
Telegram | YouTube | Blog
Page is sponsored by ETS & Exploring Namibia TV
Disclaimer: no matter how often this page is updated and its accuracy is checked, www.namibweb.com and ETS
will not be held responsible for any change in opinion, information, facilities, services, conditions, etc. offered by
establishment/operator/service/information provider or any third party
Description & pictures: Copyright © Alte Kalkofen Lodge