Klein Aus Vista
Namib Desert Horse Adventures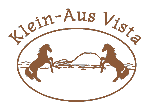 Klein-Aus Vista, the place with the view, en route to Luderitz, is the perfect base to explore the fascinating and magical south of Namibia.
Adventures and activities
Exclusive trips into the Southern Namib-Naukluft Park to view the Namib feral horses, that have roamed this area for seven generations. Go down to the Koichab Dune Belt with the Camelthorn tree forest in the old Koichab riverbed and spend time in the dunes with the guarantee that you are the only one's there. Climb the prominent extinct volcanic mountain "Dikke Willem" and see the remains of the heliograph station, dating back to pre-First World War times. Half day as well as day trips available and future overnight trips to be introduced.
Marked 1- 4 day hiking trails on intermediate terrain in the mountains to see indigenous succulents and other flora with stunning viewpoints overlooking
the desert. All trails are marked and can be done on your own, if in possession of a fitness certificate. Sightseeing and sunset photo drives to experience the extreme and varying images, that the desert environment has to offer. Historical sights such as the Schutztruppe ruins, army prison camp and burial ground, dating back to 1914 (World War 1). Advance bookings for all trips and trails are necessary. Eagle's Nest Lodge is set at the foot of the Aus mountains, 7 km away from the reception and restaurant complex and is yet easily accessible by sedan car in 10 minutes.
With its idyllic setting and "far away'' feeling you can savour the solitude
and tranquility of the desert and enjoy the vibrant atmosphere of the restaurant by night and socialize at the Wild Horse Bar. At Eagle's Nest accommodation is offered in unique rock chalets built around gigantic granite boulders, each with en-suite facilities, own lounge, fireplace and a private verandah overlooking the seemingly endless Namib. Each chalet also has an equipped kitchenette, but you are always welcome to enjoy our country cuisine at the Desert Horse Inn restaurant. The modern guesthouse, The Desert Horse Inn, at the main reception, offers luxury rooms with spacious, en-suite bathrooms (picture). Relax with a sundowner on
the wooden deck overlooking the farm before savouring your delicious meal in our restaurant or sipping your drink in our ladies bar with it's cozy fireplace during the chilly winter evenings. We also serve lunch during the day and with our Namib Horse Eco Centre in progress this is an ideal stop when passing Aus. Advance bookings for meals required.
For families or back packer groups who prefer self-catering we recommend our rock-cabin "Geisterschlucht" (picture), which has 5 bunk beds (picture), a lounge area with kitchen facilities and an outside bathroom. This cabin is situated in an natural amphitheatre, which creates an enchanting atmosphere.
Camping
An easily accessible 10 sites camping area with outstanding clean and modern amenities, located in a picturesque valley is ideal for those who appreciate the outdoors.
Rates per night*: on request
Eagles Nest Rock Chalets (8 units)
Per person per night, B&B only
Double chalet
Triple chalet
Single chalet
Desert Horse Inn (4 rooms)
Per person per night, B&B only
Double room
Triple room
Single room
Children:
0 - 2 years old: free of charge
3 - 14 years old:
Desert Horse Inn: on request, apply only if sharing with 2 adults.
Eagles Nest: on request, apply only if sharing with 2 adults.
2 children maximum per room or unit.
Children in own room = adult rates above apply.
Geister Schlucht Cabin
(Dormitory up to 20 persons)
Up to 3 persons (minimum required) per night (self-catering)
per additional person
Camp site (photo), no power points, maximum 6 persons per site:
Up to 2 persons per site
Children 3 - 14 years old camping.
No power points, 12V batteries for lights in ablution facilities. Each of camp sites is equipped with water taps, table, grill and windbreak. Hot showers (gas), firewood and meat packs are available at reception, restaurant (advanced reservations only), no swimming pool at present.
Camping:
Activities excursions (all rates are per person minimum 3 persons per vehicle): on request
Hiking trails: free
Sunset drives on farm
Sunset drives to Namib feral horses
Half/full day drive in park, 4 minimum
Half/full day - in concession Garub/Koichab, 4 minimum
Prices are subject to change except for confirmed reservations.
* Extra meals are payable directly on arrival.
Contact & reservations:
E-mail: info@namibweb.com
To book:
1) you can e-mail us requesting information and/or rates
Reservations are only accepted in writing: by fax or via e-mail.
Final availability confirmation: in writing: by fax or via e-mail.
Terms & conditions, Payment options and Cancellation policy
Page created and serviced by



www.namibweb.com

Copyright © 1998-2017 NamibWeb.com - The online guide to Namibia
All rights reserved
Page is sponsored by ETS & www.namibweb.com
Disclaimer: no matter how often this page is updated and its accuracy is checked www.namibweb.com and ETS will not be held responsible for any change in opinion, information, facilities, services, conditions, etc. offered by establishment/operator/service/information provider or any third party
Pictures, description and logo: Copyright © Klein Aus Vista