Mokoro
A mokoro (also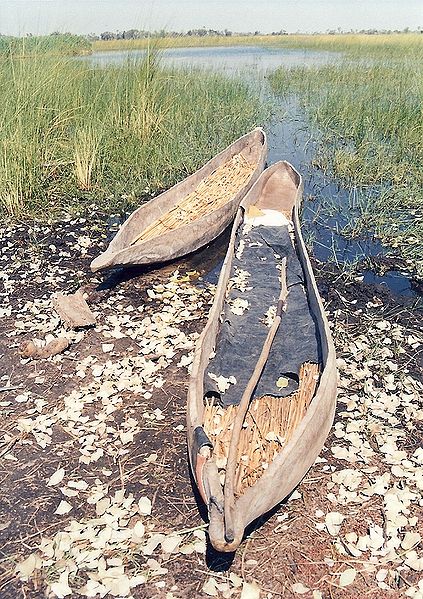 spelt mekoro, makoro) is a type of canoe commonly used in the Okavango Delta, Botswana.
It is propelled through the shallow waters of the delta by standing in the stern and pushing with a pole, in the same manner as punting.

Mokoros are traditionally made by digging out the trunk of a large straight tree, such as an ebony tree or Kigelia tree.
Modern mokoros, however, are increasingly made of fibre-glass. Mokoro safaris are a popular way for tourists to visit the delta, much of which is in national parks, but the boats are still a practical means of transport for residents to move around the swamp.
The boats are very vulnerable to attack by hippopotamus, which can overturn them with ease.
Hippopotamus are reputed to have developed this behaviour after the use of mokoros and other boats for hunting.
Facebook groups:
NAMIBIA: https://www.facebook.com/groups/namibia.namibia
BOTSWANA: https://www.facebook.com/groups/botswana1
DRONESBERG: https://www.facebook.com/dronesberg
Contact & information:
E-mail: info@namibweb.com
Reservations are only accepted in writing: by fax or via e-mail.
Final availability confirmation: in writing: by fax or via e-mail.
Terms & conditions, Payment options and Cancellation policy
Page created and serviced by



www.namibweb.com

Copyright © 1998-2024 namibweb.com - The online guide to Namibia
All rights reserved | JOIN | VIDEO PORTFOLIO | VIDEO/PHOTO COLLECTION
Telegram | YouTube | Blog
Page is sponsored by ETS & Exploring Namibia TV
Disclaimer: no matter how often this page is updated and its accuracy is checked, www.namibweb.com and ETS
will not be held responsible for any change in opinion, information, facilities, services, conditions, etc. offered by
establishment/operator/service/information provider or any third party
Image: Copyright © JackyR