Game viewing tours
These tours are focused on wildlife viewing and conducted in several national parks and reserves.
Game viewing tours around the capital.
One of most popular locations to observe game close to Windhoek is undoubtfully Daan Viljoen park. Located just 18 kilometres to the west of the capital the park offers opportunity to see several antelopes such as kudu, oryx, red hartebeest, blue wildebeest, giraffes, baboons and dozens of bird species.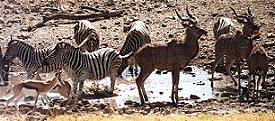 Another interesting destination located 30 kilometres north of the capital is Okapuka Ranch where roan antelopes, rhinos and crocodiles can be seen. Additional attraction is daily lion feeding tours.
Dusternbrook farm (turn-off is signposted just opposite of Okapuka Ranch gate) offers daily game drives and cheetah/leopard feeding tours.
Another place to see cheetahs is Melrose farm approximately 40 kilometres west of Windhoek on the way to Sesriem.
National parks outside of Windhoek.
Most famous location for game viewing is Etosha park 500 kilometres from Windhoek. Thousands of antelopes, giraffes and elephants are seen here. Best time to visit - winter (dry season).
Interesting opportunities exist in Damaraland where unique population of desert elephants and occasionally lion can be seen.
Parks of Caprivi are home of ''Big Five''. Only 4x4 vehicles allowed to these parks with a group of 2 cars minimum.
Waterberg park which was established to relocate several endangered species is home for buffaloes, rhinos, sable, roan antelopes and rare birds such as Cape vulture.
More information and bookings of tours
Related links: Reservations of resorts in National parks, Lions, leopards, cheetahs, Tours to game farms, Daan Viljoen park, Waterberg park, Etosha park
Contact:


E-mail: info@namibweb.com
Page created and serviced by



www.namibweb.com

Copyright © 1998-2023 namibweb.com - The online guide to Namibia
All rights reserved | JOIN | VIDEO PORTFOLIO | VIDEO/PHOTO COLLECTION
Telegram | YouTube | Blog
Page is sponsored by ETS & Exploring Namibia TV
Disclaimer: no matter how often this page is updated and its accuracy is checked, www.namibweb.com and ETS
will not be held responsible for any change in opinion, information, facilities, services, conditions, etc. offered by
establishment/operator/service/information provider or any third party