Forbidden Land tour
Minimum of 15 persons in a maximum of 10 vehicles*

The program:
Day 1:
We set off into the Namib Desert and have a full day of dune driving until we reach "Blue Mountain", a hill in the dunes where we set up camp.

Day 2:
After a good breakfast we start the serious coastal belt dunes where 20km will take us ca. 5 hours. There we will meet the Atlantic Ocean and set up c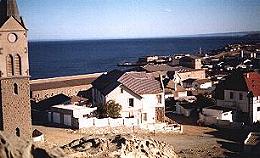 amp 100m away from the sea in a place called "Skeleton Bay".

Day 3:
We now visit Spencer Bay and Saddle Hill which involves a lot of beach driving and spectacular scenery. We set up camp at "Bay View" in the dunes.

Day 4:
Now we travel away from the sea through a place called "Devils Workshop". This is the coastal dune belt with towering dunes and takes some serious driving. There we pick one of the dune streets and travel past Koichab Pan which is a photographers paradise until we reach the tarred road. From here it is back to Luderitz.

The guide reserves the right to change / alter routes should weather conditions, vehicle- and / or driver performance require so!
Operator will supply:

1. Radios to all vehicles
2. Guide & guide vehicle
3. Wind shelter, shower & toilet facilities
4. One vehicle to carry logistics (kitchen, etc.)
5. Three meals per day (breakfast, lunch & dinner)
6. Water (for kitchen only) & wood

Clients to supply / bring:
1. Tents, mattress, sleeping bag / blanket, chairs
2. Own cutlery & crockery (operator will supply dishwashing facilities after each meal)
3. Water for own consumption (minimum 20ltrs)
4. Beverages (snacks)
5. Strong garbage bags - clients will have to carry their own garbage/waste back to Luderitz!
6. Sufficient fuel: Distance to be covered approx. 480 - 500km (Luderitz & back)
Guideline – Petrol vehicles: 3km / litre
Diesel vehicles: 4km / litre

7. 4x4 Vehicles:
- Make sure that your 4x4 is mechanically fit
- 4x4 vehicle to be fitted with "high flotation" tyres (no tube type tyres)
- Pump & pressure gauge
- Emergency gear, tools & parts
- Recovery point/hook - front & rear
- Roof racks only to be loaded with maximum weight of 50kg (i.e. bedding or tents)
- No roof tents

Briefing & guidance will be given along the route.
Minimum: 4 days.
Rates per person per trip, catering inclusive: on request
(Prices are subject to change without prior notice).
BOOKINGS IN ADVANCE ARE ESSENTIAL!
Contact & reservations:
E-mail: info@namibweb.com
To book:
1) you can e-mail us requesting information and/or rates
Reservations are only accepted in writing: by fax or via e-mail.
Final availability confirmation: in writing: by fax or via e-mail.
Terms & conditions, Payment options and Cancellation policy
Accommodation in the area:
Activities in the area:
Page created and serviced by



www.namibweb.com

Copyright © 1998-2023 namibweb.com - The online guide to Namibia
All rights reserved | JOIN | VIDEO PORTFOLIO | VIDEO/PHOTO COLLECTION
Telegram | YouTube | Blog
Page is sponsored by ETS & Exploring Namibia TV
Disclaimer: no matter how often this page is updated and its accuracy is checked, www.namibweb.com and ETS
will not be held responsible for any change in opinion, information, facilities, services, conditions, etc. offered by
establishment/operator/service/information provider or any third party
Description & pictures: Copyright © Coastways Safaris