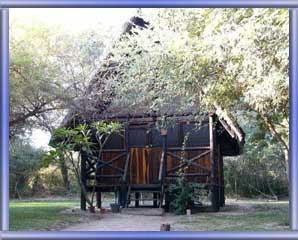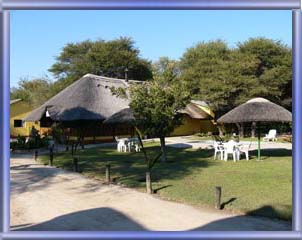 Sarasungu River Lodge is situated 700 km from Windhoek and 560 km from Katima Mulilo, ideal stop over for overlanders and self-drivers. Sarasungu River Lodge is situated on the banks of the Kavango River in the Kavango Region, Northern Namibia. Here you can still find the original lodge atmosphere of personal attention, lovely thatched roof accommodation, thriving bird life, lush green lawns and a variety of indigenous trees.
Activities
This trip to Angola will give a detailed background of the village, its people, the history and their religion. We started this program to help them rebuild their schools and to ensure that their children has education and a better future. This trip starts at Sarasungu River Lodge and you will depart by boat to the Angolan village where you will spend a maximum of 2 hours.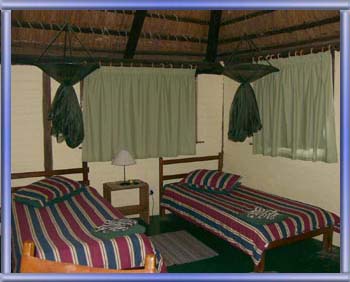 Fishing trips & scenic tours on the Okavango River.
Relax and cool down at our swimming pool.
Wine and dine in our African decorated restaurant.
Enjoy our lovely garden tranquility while listening to the songs of the birds.
Take a stroll through our wooden bird sanctuary.
Other activities
Table tennis

Volleyball

Canoeing

Mini golf

Pool table
Cruise on Okavango River photo album
Rates per room per night: on request
Bed and breakfast

Single/double

-

Family 3 or 4 beds unit
-
Camping per person, self-catering
-
Activities: boat trips, canoe trips, guided traditional village visits, fishing, Cuito fishing expeditions, guided trips to Calai (Angola): all rates are on request.

Facebook groups:

NAMIBIA: https://www.facebook.com/groups/namibia.namibia

RUNDU: https://www.facebook.com/groups/rundu.namibia

CAPRIVI: https://www.facebook.com/groups/caprivi.namibia

DRONESBERG AERIAL PHOTO/VIDEO: https://www.facebook.com/dronesberg

Contact & reservations:
E-mail: info@namibweb.com



Reservations are only accepted in writing: by fax or via e-mail.
Final availability confirmation: in writing: by fax or via e-mail.

Terms & conditions, Payment options and Cancellation policy

Page created and serviced by



www.namibweb.com

Copyright © 1998-2023 namibweb.com - The online guide to Namibia
All rights reserved | JOIN | VIDEO PORTFOLIO | VIDEO/PHOTO COLLECTION
Telegram | YouTube | Blog
Page is sponsored by ETS & Exploring Namibia TV
Disclaimer: no matter how often this page is updated and its accuracy is checked, www.namibweb.com and ETS
will not be held responsible for any change in opinion, information, facilities, services, conditions, etc. offered by
establishment/operator/service/information provider or any third party
Description & images: Copyright © Sarasungu Lodge