Henties Bay
Town in Namibia
Video Henties Bay, Swakopmund & West Coast region
Henties Bay is a small resort holiday town in Namibia, located at the Atlantic coast - West Coast Recreational Area, approximately 420 km from Windhoek and 70 km north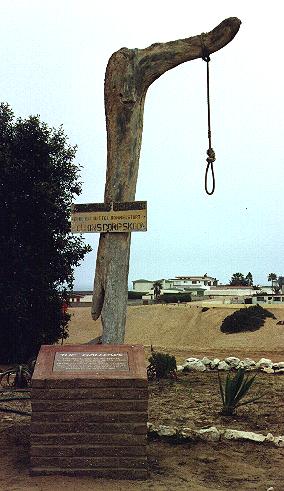 of Swakopmund. It can be reached by taking main B1 road from Windhoek, turning on road B2 and then C34 salt road from Swakopmund. Alternatively you can turn right on D1918 gravel road via Spitzkoppe.
The town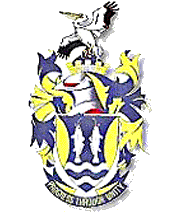 was named after its first Major Hentie van der Merwe. He discovered a water fountain in the estuary of the Omaruru river during 1922 and chose it as a place for his December holidays. He decided to build a wooden holiday shack after a several years of camping trips. Other holidaymakers from the Kalkveld district, where he lived, soon joined him. In a short period of time Henties Bay became the popular holiday town it is today with a population of approximately 3000 permanent residents.
The climate in the area is extremely arid like along the rest of the coast. Temperatures are moderate because of the influence of the cold Benguela Current, and seldom exceed 25°C during summer time. Fog is frequent occurrence in the coastal Namib with humidity as high as 85%. The rainfall is less than 10 mm per year. During winter time temperatures can soar to over 35ºC and even higher when the hot and dry east wind or "Mountain wind" is blowing.
Henties Bay is a popular holiday resort with shops, restaurants, pubs, banks, a post office, 24-hour petrol, 4 x 4 vehicle hire, garages, service stations and tow-in services, as well as medical services.
YouTube video: "Zeila" shipwreck:
This small town has a peaceful and quiet atmosphere with the absence of heavy traffic, the mild climate and long stretches of unspoilt beaches.

Accommodation facilities consists of a hotel, bungalows and holiday flats, bed and breakfast establishments, a caravan park, backpackers' accommodation and self-catering facilities. There are various sport facilities in town: a nine-hole golf course, tennis and squash courts and a Jukskei court.
YouTube video: "Dead Sea" near Henties Bay:

Henties bay is a haven for fishermen with many accessible angling spots along the coastline. Species caught include galjoen, steenbras, kabeljou, copper shark (bronzy), cow shark, spotted gully shark, hound shark and blacktail. Please see our fishing trips.
There are angling competitions held during the summer holidays. Two of the major competitions during December are organized by the Henties Bay Angling Club and the Penguin Angling Club of Swakopmund. The highlight of one of the major angling events of the year namely the Bonanza Angling Competition, is the weighing and prize presentation. Car rental is the best way to reach this coastal resort.
See a full list of Namibian coast shipwrecks.
@ Henties Bay fishing information & regulations
@ Henties Bay attractions including 4x4 trails
Video Swakopmund & West Coast region
Facebook:
NAMIBIA:
https://www.facebook.com/groups/namibia.namibia
SWAKOPMUND:
https://www.facebook.com/groups/1swakopmund

NAMIB-NAUKLUFT NATIONAL PARK:
https://www.facebook.com/groups/namib.naukluft

TRAVEL NAMIBIA:
https://www.facebook.com/groups/travelnamibia

Contact & information:
E-mail: info@namibweb.com
Terms & conditions, Payment options and Cancellation policy
Page created and serviced by



www.namibweb.com

Copyright © 1998-2024 namibweb.com - The online guide to Namibia
All rights reserved | JOIN | VIDEO PORTFOLIO | VIDEO/PHOTO COLLECTION
Telegram | YouTube | Blog
Page is sponsored by ETS & Exploring Namibia TV
Disclaimer: no matter how often this page is updated and its accuracy is checked, www.namibweb.com and ETS
will not be held responsible for any change in opinion, information, facilities, services, conditions, etc. offered by
establishment/operator/service/information provider or any third party