Gross Barmen Hot Springs Resort
Gross Barmen hot springs and resort - relaxation near capital of Namibia.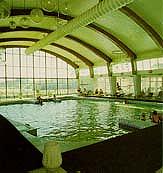 Gross Barmen Resort is located near Okahandja, around 90 km from Windhoek in Namibia. One of the most popular holiday resorts in Namibia is the luxurious Gross Barmen hot springs resort. It is situated only 25 km from Okahandja and 100 km from Windhoek, which places it within easy reach for a weekend outing or a day trip. It was built on the site of an early Rhenish mission station which was established in 1844. Today the ruins of the mission house can still be seen. The missionaries gave the station the name Gross Barmen; its original name was Otjikango Otjinene - Herero for large fountain. The main attraction of the resort, which is open throughout the year, is its hot mineral spring water.
Many visitors with rheumatic and related ailments have benefited from these waters, which can be enjoyed in the large indoor thermal bath, the open-air swimming pool, and in private baths. The water bubbles from the earth at a temperature of 65 degree Celsius and is then cooled off to 40 degree Celsius for the thermal bath. The water in the swimming pool and children's splash pool has a pleasant lukewarm temperature. Heart or kidney sufferers should take care that use of hot water only in moderation, as it could have adverse effects.
Video of resort:
Gross Barmen has a beautiful setting with its rows of palm trees, green lawns, tennis courts, children's play park and many pleasant walks. It is also a bird paradise, and the large dam with its reeds attracts more than 150 different species. Visitors should note that the birds may nor be disturbed, and angling is also not permitted at the dam.
Gross Barmen offers its overnight visitors both air conditioned 5-bed luxury units and smaller 2-bed bungalows. These all have fridges, stoves (in the bigger units) and hot water showers. Bedding is provided, and cooking and eating utensils can be hired at at a minimal cost. There is also a shady camping site with convenient ablution blocks and field kitchens. The resort, which has a conference room that can seat up to 20 persons, is furthermore ideal for small conference groups. For the convenience of visitors the resort has a restaurant, filling station and a shop which stocks fresh produce, groceries, liquor, firewood, etc. Pets are not allowed in the resort, but there are kennels at the entrance. Owners are fully responsible for the care of their pets. Gross Barmen is truly an oasis where one can relax totally. As it is such a popular resort, the number of day visitors is restricted over the long weekends and the South West Africa/ Namibia school holidays. It is therefore advisable to book well in advance for these periods. A popular place to visit when at Gross Barmen is the nearby Von Bach Dam Resort which is outside of Okahandja. It is ideal for water sport enthusiasts and anglers. There are attractive picnic spots and a camping site along the banks of the dam.

History of Gross Barmen. The mission was founded in 1844 by two missionaries from Rhenish Missionary Society Heinrich Kleinschmidt and Carl Hugo Hahn. During Nama-Herero wars the mission had to be abandoned for several times and since 1890 no missionaries were stationed there.
Usage and entrance fees per day (payable on arrival or pre-booked): click here
Accommodation and camping per night: on request
Unit type
Number of units
Daily rates per person
Single rate
Note
Family chalet 4 beds
4
-
-
Bed and breakfast maximum 4 adults
Bush chalet 4 beds
11
-
-
Bed and breakfast maximum 4 adults
Bush chalet 2 beds
24
-
-
Bed and breakfast maximum 2 adults
Camping
40
-
-
Maximum 8 persons per site
Accommodation only: children under the age of 6 stay free of change, 6-12 years old pay 70%.
Provision for children will be made upon arrival; however the booking must be made in advance.
Other facilities:
Mineral bath, shop, kiosk, tennis courts, indoor and outdoor thermal swimming pool, restaurant, fuel, mail facilities, fire wood. No banking facilities (available in Okahandja).
Restaurant:
Open: 7.00-9.00, 12.00-14.00, 18.00-22.00
Meal times:
7.00-8.30, 12.00-13.30, 18.00-20.30
Notes:
No pets allowed, kennels are available, no motorcycles. Open throughout the year.
Reservations
(click for more information)
Contact & reservations:
E-mail: info@namibweb.com
To book:
1) you can e-mail us requesting information and/or rates
Reservations are only accepted in writing: by fax or via e-mail.
Final availability confirmation: in writing: by fax or via e-mail.
Terms & conditions, Payment options and Cancellation policy
DAILY PARK AND RESORT FEES (PER PERSON AND PER VEHICLE) ARE NOT INCLUDED IN ACCOMMODATION FEES!
Page created and serviced by



www.namibweb.com

Copyright © 1998-2023 namibweb.com - The online guide to Namibia
All rights reserved | JOIN | VIDEO PORTFOLIO | VIDEO/PHOTO COLLECTION
Telegram | YouTube | Blog
Page is sponsored by ETS & Exploring Namibia TV
Disclaimer: no matter how often this page is updated and its accuracy is checked, www.namibweb.com and ETS
will not be held responsible for any change in opinion, information, facilities, services, conditions, etc. offered by
establishment/operator/service/information provider or any third party
Description and logo: Copyright © Namibia Wildlife Resorts