Aus
Town in Namibia
Karas Region
Aus is a village in Karas Region in southern Namibia. It lies on a railway line and the B4 national road, 230 km west of Keetmanshoop and about 125 km east of Luderitz. Trains from Keetmanshoop now terminate at the village but formerly continued on to Lüderitz. The village is small but has a number of amenities including a hotel, police station, shop and garage. It is located in the Aus Mountains above the plains of the Namib Desert. The climate is usually hot and arid but snow has been recorded in winter.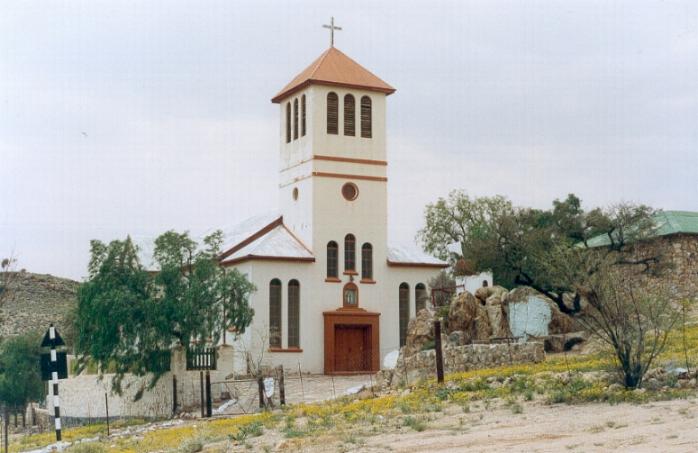 The village was formerly the site of a prisoner-of-war camp established by the South African army in 1915 to house German inmates captured during the First World War. The inmates initially lived in tents but later built brick houses. The number of prisoners reached 1500 but by May 1919 the last inmates left and the camp closed. A plaque marks the site today and some of the houses have been reconstructed.

The area west of Aus is noted for its herd of feral horses living in the desert. Their origin is uncertain but today there is a population of between 150 and 200 individuals which have adapted to the harsh environment. They urinate less than domestic horses and can go five days without water. They drink at an artificial water hole at Garub Pan where a blind has been erected to enable tourists to watch the animals without disturbing them.
Tranquil Aus is situated 125 km east of Luderitz on the road B4. The curios name means 'out' in German, but is actually derived from a khoi-khoi word which means 'place of snakes'. After the Germans surrendered to the South African forces at Otavi on 9 July 1915, Aus become one of two internment camps for German military personnel. Military police and officers were sent to Okanjanje in the north and the noncommissioned officers went to Aus. Before long, 1552 prisoners and 600 South African guards were housed in tents and exposed to poor conditions and extreme temperatures. These resourceful inmates, however, turned to brick making and constructed houses, then sold the excess bricks to the guards for 10 shillings per 1000. The houses weren't opulent - roofs were tiled with unrolled food tins - but they did provide protection from the elements. The prisoners also built several wood stoves, and eventually sank boreholes to provide water for the camp and built barracks for the guards.
Phone code: 063. Police: 10111.
Coordinates: 26°40'S 16°16'E
Country: Namibia
Region: Karas Region
Constituency: Lüderitz Constituency
To print this page press Ctrl-P
Contact:
E-mail: info@namibweb.com
Reservations are only accepted in writing: by fax or via e-mail.
Final availability confirmation: in writing: by fax or via e-mail.
Terms & conditions, Payment options and Cancellation policy
Page created and serviced by



www.namibweb.com

Copyright © 1998-2023 namibweb.com - The online guide to Namibia
All rights reserved | JOIN | VIDEO PORTFOLIO | VIDEO/PHOTO COLLECTION
Telegram | YouTube | Blog
Page is sponsored by ETS & Exploring Namibia TV
Disclaimer: no matter how often this page is updated and its accuracy is checked, www.namibweb.com and ETS
will not be held responsible for any change in opinion, information, facilities, services, conditions, etc. offered by
establishment/operator/service/information provider or any third party