Code CC02. 10 days Namibian Explorer Safari
Day one
Windhoek – Okonjima (300 km) (LD) (camping)
We will travel north, stopping at small towns along the way including Okahandja, where we have time to visit Namibia's largest wood carving market. The market is operated on a local co-operative basis and is one of the best places to shop for truly Namibian souvenirs.
Continuing north, passing through farmland, we aim to arrive at Okonjima during the middle afternoon, giving us time to set up our camp and to relax in the shade for a while before heading out on to the property to take part in the afternoon's activities.
Okonjima is the home of the Africat Foundation, a specialist conservation concern that centres its operations around the African Big Cats, particularly cheetah. This afternoon you will be taken on a tour during which you will be able to meet, close-up-and-personal, some of the cheetah that are going through the Africat rehabilitation programme. Most of the animals currently living at Okonjima have been rescued from various desperate situations, being orphaned or caught in a trap, and the aim of rehabilitation process is to attempt to re-introduce them into the wild.
After our educational tour we will return to camp and prepare for dinner under the African stars.
Day two
Okonjima - Namutoni, Etosha National Park (300 km) (BLD) (camping)
An early start and continuing north we pass through some small towns, making short stops for fresh supplies and fuel. Our first main port of call today is the mysterious Lake Otjikoto. Otjikoto is in fact Namibia's largest permanent natural lake and we take time here to rest a little and learn something about the history of this unusual landmark.
Continuing on to Namutoni camp in Etosha National Park we again aim to arrive in time for lunch, giving us time to relax before heading out into the park during the cool of the late afternoon for our first game drive.
After your evening meal there are still more chances to see Etosha's big game at Namutoni's floodlit waterhole. Situated on the boundary of the camp and easily reachable on foot, elephants are regular visitors here and there is a good chance of seeing other species of game as well.
Day three
Namutoni - Okaukuejo, Etosha National Park (BLD) (camping)
A full day's game driving. We again leave early to enjoy the cool morning air as we game drive our way through Etosha to Halali camp, situated in the middle of the park.
Along the way we visit several waterholes and are afforded splendid views of the massive Etosha Pan. The game viewing is usually excellent and we have the chance to tick off a few new species that are not normally seen on the Namutoni side of the park.
We stop at Halali for a rest and a leisurely lunch. There is time to visit the Halali waterhole and to make use of the swimming pool and bar facilities before continuing on our way and game driving down to Okaukuejo camp.
Okaukuejo is famous for its waterhole, which has been described as one of the "best game viewing opportunities in Southern Africa". Situated on the doorstep of our camp, black rhino, elephant, lion and numerous species of antelope are usually seen.
Day four
Okaukuejo – Oase Himba Village, Kamanjab (300km) (BLD) (camping)
Leaving Etosha we begin our journey south with a relatively short drive to the small town of Kamanjab where we will make a short stop here before continuing on to find the Himba Tribesmen.
This is the only traditionally functioning Himba community outside the far north Kaokoland region of Namibia These tribes-people have migrated here, lifestyle and customs intact, and are following their traditional way-of-life in their village on a farm. Oase Village is located about 15 to 20 km outside Kamanjab, the exact location of the site varies as the Himba occasionally roam to a new location.
During the afternoon we will be invited into Oase Village and will meet with the locals. We will have a specialist guide for the time we are there, who will be able to translate for us and will introduce us to this "alternative lifestyle". We will learn about marriage customs, traditional food and the mysteries of the local religion, "Holy Fire".
We will make our camp about 150 meters from the village "Kraal" to ensure both our and our hosts privacy
Day five
Oase Village – Brandberg Mountain (400km) (BLD) (camping)
Today we head into one of the most beautiful desert regions in Namibia, Damaraland. We drive south to the capital of this region, the small town of Khorixas, and then take a detour to the west, travelling via the Petrified Forest geological site, to visit the ancient Bushman rock engravings at Twyfelfontien. At both these locations we will have local guides to conduct us on a short guided tour.
From here we head deeper into the desert to Namibia's highest mountain, The Brandberg, (2573 m). Brandberg Mountain is an ancient Bushman spiritual site and tonight we will sleep in a community campsite under the shadow of this giant granite monolith.
Day six
Brandberg Mountain – Swakopmund, Skeleton Coast (200 km) (BL) (chalet accommodation)
Starting early to enjoy the cool of the morning we will hike, "into" the mountain with our guide to see the world famous "White Lady" rock painting. Attributed to the Bushman artists, the white lady panel is believed by some to be in excess of 20 000 years old.
Back on the road and more beautiful Damaraland scenery this morning, we make our first stop in the small town of Uis, an old mining town, and one of the best places to buy semi-precious stones, for which Namibia is famous. Here, rough Amethyst, Tourmaline etc can be found at bargain prices.
From here we turn directly west and cross the "gravel plains" on our way to the Atlantic Ocean and the Skeleton Coast. Meeting the ocean at Henties Bay, we first head north along the coast to visit the seal colony at Cape Cross. Here at certain times of the year there can be as many as 100,000 Cape Fur seals in attendance. The next destination is Swakopmund, following the Skeleton Coast into Namibia's premier seaside town.
The Swakopmund section of the trip is designed to allow people to relax either with the group, or on their own. Only breakfast is provided, this is to allow you to plan your time here with as much flexibility as possible and not to be tied to group meal times. It also gives you the chance to sample some of the excellent local cafes and restaurants. The seafood in Swakopmund is superb. Your guide will offer to organise a group meal in a local restaurant for this evening. Participation is recommended but by no means required.
Dinner this evening in not included in the price of the safari and will be for the client's own account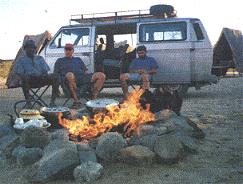 Day seven
Swakopmund (B) (chalet accommodation)
Today is a free day. The idea is to allow time for everybody to do their own thing. Swakopmund is a very pleasant seaside town with lots of shops, a good stretch of beach (although the Atlantic here is quite cold) and an open-air curio market. There is also a very good museum and the Namibian National Marine Aquarium is located in Swakopmund.
Alternatively, there are various optional activities that can be arranged. These include aeroplane and microlight flights over the desert, scenic drives, fishing trips (both from the beach or in a boat), four-wheel motorcycle (quad bike) trips into the desert and over the sand dunes around Swakopmund, sand boarding trips (also in the dunes), skydiving, surfing, bird-watching and many other activities are available.
Your tour guide will discuss all the possible options with you before you reach Swakopmund and will offer to make bookings in advance of your arrival. (N.B. All extra activities and excursions in Swakopmund are subject to availability and are made at the clients' own risk and expense).
Dinner this evening is not included in the price of the safari and will be for the client's own account
Day eight
Swakopmund - Sesriem (300 km) (BLD) (camping)
We first make a stop at Walvis Bay, situated about 40 km south of Swakopmund. South of the town there is a large marine lagoon which is home to a vast array of marine bird-life, in particular flamingos.
We will make a short visit to the lagoon to see the birds and a short visit to Walvis Bay to collect any last minute supplies before once again heading out into the desert. The second part of our journey today takes us across more of the seemingly endless Namib gravel plains. Then the landscape suddenly changes and we are into the mountain desert.
We traverse both the Kuiseb and Gaub passes, driving both times to the river beds at the bottom of the canyons and then climbing the long steep road to the top and the spectacular panoramas the mountains give us. Again the scenery changes as we make our way down to the dune fields at Sesriem.
We cross some open grass savannah and farmlands before the terrain begins to give way to the immense red sand dune desert of the Namib. We aim to arrive at Sesriem during the late afternoon and we have time to drive out to one of the nearby dunes to watch the colours on distant mountains to the east, glow and change.
Day nine
Sesriem - Sossusvlei - Sesriem (150 km) (BLD) (camping)
A pre-dawn start to see the sunrise in the dunes. We drive a further 60 km into the desert and have our breakfast as the colours grow across the landscape.
To reach Sossusvlei itself we walk for the last 5 km through the dunes. The walk is like nothing else, in the cool of the morning, with soft sunlight just beginning to play over the dunes creating a sharp light and shadow contrast across the whole desert. Ancient mineral pans, stunted camel horn trees and the chance of seeing a gemsbok or maybe an ostrich make the photo opportunities perfect.
We spend the morning in and around Sossusvlei, also visiting "Dune 45", and as the day wears on we return to Sesriem for lunch and to escape the heat of the afternoon. As the day cools off in the late afternoon we will take a short excursion to the Sesriem Canyon.
Day ten
Sesriem - Windhoek (450 km) (BL)
After breakfast we begin our journey, over the mountains and along scenic roads, back to Windhoek. We will travel over the Naukluft Mountains and also the Khomas Hochland range, through beautiful Remhoogte Pass on our way back to civilization.
We are due back into the city around 15:00 and you will be dropped off at your accommodation on our return.
Departures and rates: on request
PRE-DEPARTURE INFORMATION
We wish to bring to your attention the following list of personal items that we recommend you bring along on safari and a list of exactly what is and what is not included in the tour cost. Please read carefully the information detailed on this page. Please note that tours are conducted in English. All excursions in Swakopmund are optional and are at clients' own risk and expense. Singles may be required to share tents or other accommodation and on the six day itinerary accommodation in Swakopmund is not included. All participants will be required to fill in a booking form and sign an indemnity before departure.
You will be collected from your accommodation between 08:00 and 08:30 on the morning of departure. Please make sure that you have confirmed your collection address with us.
All safaris are operated on a participation basis. Basically you will be asked to put up your own tent, to help with the loading of the vehicle, food preparation and the washing up.
The baggage allowance on tour is 12kg, plus one small item of hand luggage and one camera bag per person. Luggage is best packed in soft, canvas, barrel type bags or rucksacks. Any type of suitcase is not recommended.
When packing your clothing please be aware that Namibian summer temperatures (December - March) can reach 45*C, and winter temperatures (June - September) can be as low as -5*C. The rainy season is between December and April.
Master Card and Visa are accepted, however a bank fee will be added to your payment to cover the bank charges incurred by us.
If you have not already done so, kindly inform our office of any special requests or dietary requirements you have, and do not hesitate to call if you have any questions or require any further information.
ITEMS TO BRING: sunscreen lotion, sunglasses, water bottle, towel, torch, camera and films, swimming costume, shorts and t-shirts, warm jacket, comfortable walking shoes, hat.
WHAT'S INCLUDED: transport, three meals a day, accommodation as per itinerary, camping equipment (except sleeping bags - can be rented at N$ 5 per day), park entrance fess, professional driver-guide.
WHAT'S NOT INCLUDED: alcoholic beverages, soft drinks, personal travel insurance, personal expenses, personal travel insurance.
Reservations & information:
E-mail: info@namibweb.com
Please fill in our booking form and fax it back indicating a method of payment or e-mail us.
Reservations are only accepted in writing: by fax or via e-mail.
Final availability confirmation: in writing: by fax or via e-mail.
Terms & conditions, Payment options and Cancellation policy
Related:
Page created and serviced by



www.namibweb.com

Copyright © 1998-2023 namibweb.com - The online guide to Namibia
All rights reserved | JOIN | VIDEO PORTFOLIO | VIDEO/PHOTO COLLECTION
Telegram | YouTube | Blog
Page is sponsored by ETS & Exploring Namibia TV
Disclaimer: no matter how often this page is updated and its accuracy is checked, www.namibweb.com and ETS
will not be held responsible for any change in opinion, information, facilities, services, conditions, etc. offered by
establishment/operator/service/information provider or any third party
Itineraries and pictures: Copyright © Crazy Kudu Safaris