Sepupa Swamp Stop Rest Camp
Ngamiland
Botswana
Sepupa Swamp Stop Rest Camp
Botswana
Sepupa Swamp Stop Rest Camp is a camp site situated on the banks of the main Okavango River, just outside the village of Sepupa in Botswana. Camp is approximately 60 k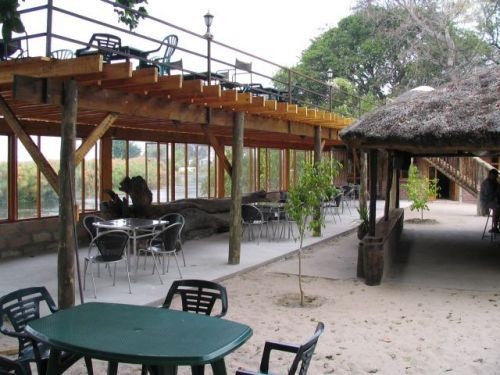 m south of Shakawe and 330 km from Maun. The main tarmac road from Sehitwa to Shakawe will take you past Sepupa where you will turn right / left (depending on your direction) into the village of Sepupa, then again a right turn will take you on a gravel road for 2.5 km to the camp.
Swamp Stop is primarily a camp site where hosts welcome the self-drive / do-it-yourself camper / traveller / overlander. The camp do offer comfortable accommodation (not self-catering) in fixed twin tents with bedding and several river- and garden-facing chalets. Camp has recently acquired mains electricity and hope to eventually have a power point in each camp site.
Sepupa Swamp Stop Rest Camp offers a fully stocked bar, evening meal & full breakfast (if booked in advance), bar snacks are also available throughout the day. Two swimming pools and a large ablution block, to make your stay both enjoyable & comfortable.
Whilst camp staff do not offer mokoro trails direct from our camp, they can transfer you and your party to Seronga + - 90 minutes by motor boat where you can deal direct with the Umvuvu Rest Camp, for the true mokoro trail experience. Tsodilo Hills, famous for their bushman paintings are approximately 60 km from Sepupa Swamp Stop Rest Camp, easily accessible for either a daytrip or overnight stay.
Great fishing at certain times of the year, Tiger, Bream & Barbel the most common species, or just enjoy a day on the river, with a picnic lunch on an island, the choice is yours.
Bird watching is exceptional near Sepupa Swamp Stop Rest Camp but unfortunately there is no large game. Hippos, crocs and Sitatunga are frequently spotted on a boat trips and at certain times of the year.
Just across the border into Namibia approximately 70 km is Mahango Game Reserve that can offer most of the big game if you are lucky. This reserve can also be visited on a day trip from Swamp Stop.
Ice is available for purchase. Chalets are serviced. No 4x4 is required to reach Sepupa Swamp Stop Rest Camp.
Rates per night: on request
Chalets, sleep 2 persons, per unit, not self-catering, accommodation only:
2 x single beds, air-con, fridge, bath + shower, hot water, linen provided, coffee/tea facilities, mosquito nets, all serviced
River facing
-
Garden facing
-
Makoro Beach Camp en-suite Meru tents
-
Camping, per person (power points, fire place/braai facilities, maximum of two energy saving 60 watts bulbs per camp site)
Electricity for fridges fee
Payable on arrival
Boat fees, including fuel (once-off launching fee is payable on arrival)
Big boats 1st hour
-
Small boats 1st hour
-
Full day fishing, excluding fuel
Big boat
-
Small boat
-
Seronga transfers, including fuel
Big boats, one way
-
Small boats, one way
-
No fridges may be plugged in without prior permission. All parking fees are payable strictly on arrival.

Facebook:

NAMIBIA: https://www.facebook.com/groups/namibia.namibia

BOTSWANA: https://www.facebook.com/groups/botswana1

DRONESBERG AERIAL PHOTO/VIDEO: https://www.facebook.com/dronesberg

Contact & reservations:
E-mail: info@namibweb.com



Reservations are only accepted in writing: by fax or via e-mail.
Final availability confirmation: in writing: by fax or via e-mail.

Terms & conditions, Payment options and Cancellation policy

Alternative accommodation (Namibia):

@ Popa Falls Resort
@ Mahangu Safari Lodge
@ Ndhovu Safari Lodge
@ Divava Okavango Lodge

Page created and serviced by



www.namibweb.com

Copyright © 1998-2023 namibweb.com - The online guide to Botswana
All rights reserved | JOIN | VIDEO PORTFOLIO | VIDEO/PHOTO COLLECTION
Telegram | YouTube | Blog
Page is sponsored by ETS & Exploring Namibia TV
Disclaimer: no matter how often this page is updated and its accuracy is checked, www.namibweb.com and ETS
will not be held responsible for any change in opinion, information, facilities, services, conditions, etc. offered by
establishment/operator/service/information provider or any third party
Description & images: Copyright © Sepupa Swamp Stop