| | |
| --- | --- |
| | November 2002 Wilderness Safaris' fly-in safari to Skeleton Coast |
"This is a Cheetah Tree" says our guide Chris Liebenberg pointing to an old camelthorn tree next to riverbed. We are a group of travel agents kindly invited by Wilderness Safaris Namibia on an educational fly-in safari to their concession area in the northern part of Skeleton Coast Park. It started in Windhoek with a two hour flight over Khomas Hochland to Swakopmund where we picked up a family from the US. It followed by a low altitude flight over the coast above rusted shipwrecks and Cape Cross seal colony. Our group was quite mixed up: one Russian (myself), two Namibians, a couple from Switzerland and Americans, a couple with two children. We arrived at the camp at Khumib River in the early afternoon after a bumpy landing on a narrow landing strip. Our pilots from Sefofane Air truly deserved all our compliments. After a lunch we embarked on afternoon trip inland into Kaokoland through plains and dry riverbed. I joined Chris' group who was our driver and a guide. This walking source of all kind of information about Skeleton Coast, plants, animals, ship wrecks never ceased to amaze me on how much he knew. There was no question he could not answer. Our trip ended at sunset with a drinks and snacks served by our guides. Last sight on our way back was hyena professionally spotted by Chris in the dark. We returned to the camp to freshen up before a dinner.
Abandoned oil rig near Toscanini:
Next day we got up quite early just for a coffee before jumping into our Landrovers for Kaokoland trip in search of desert elephants and Himbas. Our hopes for a relaxing doing-nothing time were dashed: it was a day filled with driving through beautiful landscapes of Kaokoland on tough 4WD tracks. Our first stop was Otjivaurua village of local Himba people. Chris' knowledge of some words helped to get into contact with them and take some pictures. After giving a lift to a couple of Himba girls we got into Hoarusib River near small settlement Purros which was surprisingly wet. As Chris explained there were a several water springs in the area and water table was near the surface. River banks were lush with vegetation and after getting into a wide open stretch of the river we finally saw our first (and last) desert elephant. He was alone and did not look much of a desert one,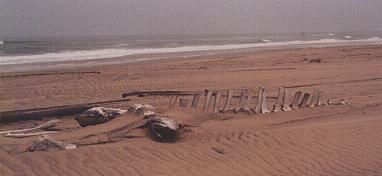 maybe a bit dustier than his Etosha relatives. We were back again in the evening and went to bed after a dinner quite exhausted.
Next day was one of the most unforgettable out of all my trips around the country. I have made almost 300 000 km in Namibia but the day along that famous Skeleton Coast was really special. Early morning the fog was so thick that Chris was not sure about driving along the coast but finally decided on it and I was glad he did! We were driving along the beach full of bones, pieces of ships and fishing gear, bottles, wooden polls (remains of ancient ships?) and thousands of crabs running around. Lunch was at the small dune next to ocean. Our last stop along the coast was at Cape Fria seal colony, as smelly and full of life as one at Cape Cross, from there we again drove inland making a large circle with a stop at salt lake before returning to the camp.
Last day we were divided into two groups: one (mine) was going to Rocky Point and grave of Matthias Koraseb, second group went to clay castles of Hoarusib River. Matthias Koraseb was a sailor from a vessel Sir Charles Elliot sent to the rescue of Dunedin Star that was wrecked near Cape Fria in 1942. He died trying to reach the shore when Sir Charles Elliot was wrecked herself on the way back unable to assist Dunedin Star. On our way back we stopped at roaring dunes. Why roaring? Ask Chris, I promised to keep his secret. I can only tell you that dunes really roar. We flu back to Windhoek in the afternoon and stopped at Ongava Lodge to drop off Americans who were continuing their Namibian tour.
This safari although not cheap can be highly recommended to participants who are seeking an active holidays. All days are filled with driving, visiting local settlements and of course a coast itself where probably only a several humans were before you and not all survived it. The area is a concession given to Wilderness Safaris and Namibian Government through Ministry of Environment and Tourism imposed a strict conditions one of them being a very limited number of visitors allowed at the camp, only twelve at a time. No self-drivers are allowed into the concession area.
Accommodation, meals, competence of a staff and their professionalism was excellent but beauty of the area was the main attraction and purpose of our tour which all of us will remember for a long time.
Contact & reservations:
E-mail: info@namibweb.com
Please fill in our booking form and fax it back indicating a method of payment or e-mail us.
Terms & conditions, Payment options and Cancellation policy
Images:
Related:
Page created and serviced by



www.namibweb.com

Copyright © 1998-2023 namibweb.com - The online guide to Namibia
All rights reserved | JOIN | VIDEO PORTFOLIO | VIDEO/PHOTO COLLECTION
Telegram | YouTube | Blog
Page is sponsored by ETS & Exploring Namibia TV
Disclaimer: no matter how often this page is updated and its accuracy is checked, www.namibweb.com and ETS
will not be held responsible for any change in opinion, information, facilities, services, conditions, etc. offered by
establishment/operator/service/information provider or any third party
Images and text: Copyright © namibweb.com