Navachab gold mine
Information on the only gold mine in Namibia.
The first gold-bearing quartz veins in Namibia were discovered in the Rehoboth district in Sinclair sequence volcanogenic host rock as early as 1899. During the pegging boom of 1933 and 1934 many prospects opened up and exploited, but all were later closed down, mainly due to the low and erratic grade of the mineralisation. Most recently, Namibia gold production received a new boost. The Navachab gold deposit was discovered as a result of a geochemical exploration program in October 1984, during exploration for carbonate-hosted gold deposits area. It was discovered on the farm Navachab, 6 km south of the main Okahandja-Swakopmund tar road. Karibib is in the main railway line and the power to the mine is drawn from nearby SWAWEK 260 kV power line.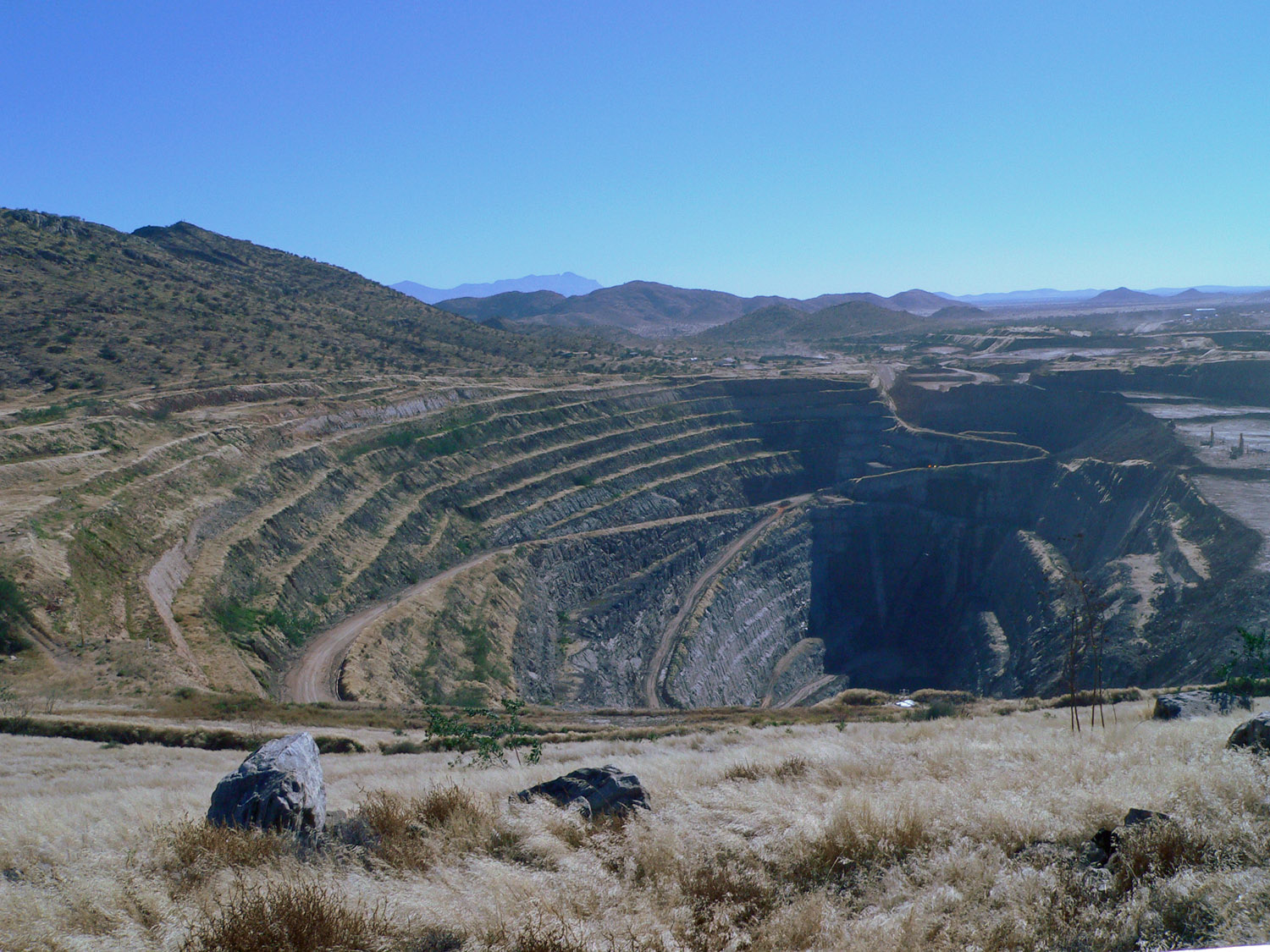 Exploration history. An appraisal was carried in 1986 and followed by feasibility study in 1987, after which a decision was made to proceed with the development of a mine. Construction work began in 1988 and the first gold bar was poured only 21 month later in December 1989, establishing Namibia as one of the gold producing countries in the world.
The mine was completed at a capital cost of 85 million. The plant was commissioned in November, with full production being achieved in January 1990. The venture is owned by Erongo exploration and mining company (70%, which includes 33% of CDM), Metal Mining company of Canada (20%) and Rand Mines exploration company (10%, Windhoek).
Geology. The 35 metre-thick ore body is hosted in a thick marble unit. The ore body dips at 70' to the west and plunges at 14' to the north and it is mined by open-cast method to a depth of 160 metres. The ore body is estimated to contain 10.4 million tones of ore with average grade of 2.3 grams of gold per ton and a further 6.5 million tones of marginal ore with an average grade of 0.66 grams per ton. It will approximately take 13 years to mine and process these known reserves. It envisaged that an increase in the milling to 840 000 tones per annum may be possible which will allow a decrease in the planned head feed grade. The carbon-in-pulp process recovers 85% of gold. After C.I.P. extraction, elution and smelting the unrefined bullion is sold to Switzerland, where it is refined.
Pink nosib formation quartzites and arkose occur on the eastern edge of the mining area and are overlain by other formation mixtures. The marble-hosted gold skarn mineralisation is related to multistage mineralisation, from 800 metres north-east of the main ore body, greisen and pegmatite's are localised around a late stage, fluorite which is interpreted to be possible heat source for the final concentration of low grade gold deposits. Two types can be recognized by mineralisation: 1) skarn related gold mineralisation within marble/calc silicate zone. This zone hosts the bulk of gold mineralisation, 2) the hanging wall banded grey marble and melted dolomites. This zone hosts cross-cutting vein storkwork style ore body of limited tonnage.
Recent development. The possibility of upgrading the marginal ore reserves using dense medium separation (d.m.s.) was examined in the pilot campaign. Gold discoveries of 60% to 81% were achieved at a concentrate grade of 3 to 4 grams of gold per ton. The alternative of increasing plant milling capacity is now being investigated. The resultant plant throughout would lead to scale economics and lower grade material could then become profitable.
Deepening on open pit. An input exploration program during 1992 give a better definition of part of the ore body which lead to the redesign of the open pit. With this exercise it was found that the ore body can be economically mined to a depth of 190 metres compare to the original depth of 160 metres.
Potential to go underground. Diamond drilling during the last three years indicate extensive strike extensions to the ore body and it is still open ended at 600 metres north of the planned open pit. With 14 plunge to the ore body it is not possible to mine extensions by open-cast methods.
Page created and serviced by



www.namibweb.com

Copyright © 1998-2023 namibweb.com - The online guide to Namibia
All rights reserved | JOIN | VIDEO PORTFOLIO | VIDEO/PHOTO COLLECTION
Telegram | YouTube | Blog
Page is sponsored by ETS & Exploring Namibia TV
Disclaimer: no matter how often this page is updated and its accuracy is checked, www.namibweb.com and ETS
will not be held responsible for any change in opinion, information, facilities, services, conditions, etc. offered by
establishment/operator/service/information provider or any third party