Sedimentation of the Walvis Bay lagoon
Dorob National Park
Definition. In marine context a wetland is a sheltered, shallow area connected to the sea, which by virtue of the environment it offers is a home to a collection of animals which are found not at all or not so plentiful along the open shore.
Geology. Surface: 12 600 ha. Age: 6 000 years. Only 1% of Namibian shoreline are coastal wetlands. Also the location of Namibia's major harbour - thus human development must be seen as an integral part.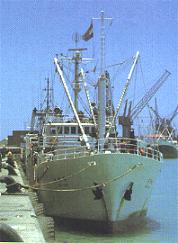 Lagoon is orientated S/SE to N/NW - direction of prevailing winds.
Sedimentation. Caused by Aeolian processes blowing sand into lagoon.


This sand is prevented from being removed in a natural way by the tidal effects - deforestation, building of roads and housing developments. Pollution also can not be washed out.
Ecology of lagoon can not be restored once damaged.
Effect on bird life. Birds were counted in 1996: 120 000 (47 species). Some 14 red data species. According to RAMSAR Convention (August 1995) Walvis Bay lagoon is a wetland of international importance. Abundance of food - ocean upwellings - plankton carried onshore in lagoon area.
Area is important for West Atlantic flyway from Scotland to Cape - migration route.
Density of biomass on scale from 1-50: Orange river mouth: 2; Kunene river mouth: 1; Walvis Bay lagoon: 45.
Walvis Bay lagoon is the best flamingo viewing locality in the world.
What can be done? An Environmental Management System (EMS) is needed plus ongoing monitoring and audit process.
Areas must be set aside for recreational purposes and off-limit conservational areas. No boats, off-road vehicles and pets.
All role players must take part - port authorities, Municipality, Nature Conservation and tour operators. Aeolian sedimentation must be curbed through dune stabilization. Man-made obstructions to tidal flow must be removed and pollution stopped.
Related: Walvis Bay, Lagoon Lodge, The Courtyard Hotel, Langholm Hotel, Pelican Bay Hotel
Contact & information:
E-mail: info@namibweb.com
Page created and serviced by



www.namibweb.com

Copyright © 1998-2023 namibweb.com - The online guide to Namibia
All rights reserved | JOIN | VIDEO PORTFOLIO | VIDEO/PHOTO COLLECTION
Telegram | YouTube | Blog
Page is sponsored by ETS & Exploring Namibia TV
Disclaimer: no matter how often this page is updated and its accuracy is checked, www.namibweb.com and ETS
will not be held responsible for any change in opinion, information, facilities, services, conditions, etc. offered by
establishment/operator/service/information provider or any third party