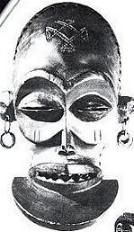 Cihongo dance mask symbolising the spirit of wealth. Kasai (Congo-Zaire). Musee Royal de L'Afrique Centrale. Dimensions: 22.5x14 cm.
Chokwe (Cokwe, Jokwe, Quicos, Badjok)
The Chokwe is a Bantu - speaking widespread ethnic group living in central Africa (Congo - Zaire, Angola and Zambia). They speak a Bantu language which belongs to the Chokwe-Lunda group. They are one of the main population groups in eastern Angola.
The farmers and hunters who established this great art were organised into chefferies about four hundred years ago by Lunda nobles. They were known to the Portuguese traders and explorers already at the end of the eighteenth century.
Art styles of the Chokwe, Lwena, Mbundu and Songo are similar to the large extend, which at the end affected attribution of a great number of pieces to the Chokwe. The art of Chokwe has displayed the most inventiveness and originality in their magnificent creations, their style inspired all the art of this region.
Back to ethnic groups page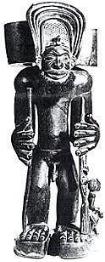 Sculpture of ancestral hero, Tshibinda Ilunga, Luba prince and father of first Mwata Yamvo. Hard wood, brown, lightly covered with red clay. Museu do Instituto de Anthropologia, Porto. Height: 39 cm.