Cellular coverage in Namibia and telecommunication services
Mobile telecommunication services are provided by Namibian companies MTC and Leo. See maps.
Visitors from the countries listed below can use their GSM 900 mobile cellular phones in Namibia:
Australia, Austria, Belgium, Botswana, Bulgaria, Canada, Czech Republic, Denmark, Egypt, Finland, France, Georgia, Germany, Gibraltar, Greece, Hong Kong, Hungary, Iceland, India, Ireland, Israel, Italy, Ivory Coast, Jordan, Kazakhstan, Kenya, Kuwait, Liechtenstein, Luxembourg, Macau, Malawi, Malaysia, Mauritius, Morocco, Mozambique, the Netherlands, New Zealand, Norway, Philippines, Poland, Portugal, Romania, Russia, Singapore, Slovak Republic, Slovenia, South Africa, Spain, Sri Lanka, Swaziland, Sweden, Switzerland, Taiwan, Tanzania, Thailand, Turkey, Uganda, United Arab Emirates, the United Kingdom and Zimbabwe.
Roaming in Canada.
Please take note that MTC's roaming partner in Canada, Microcell Connexions, operates a GSM 1900 network. This means that you need a Triband Cellular handset - it operates on a 900, 1800 and 1900 MHz network. Both Motorola and Eriksson have handsets available. Alternatively you could rent a handset once you arrive in Canada.
MTC continuously updates its coverage and capacity country wide. This map below indicates expected coverage for 2 Watt handheld cellular phones, and will increase with the installation of a car kit. Making and receiving calls is only possible within the coverage area. Variation in coverage depends on terrain, building structure, atmospheric conditions and the weather. Coverage is last updated in November 2001.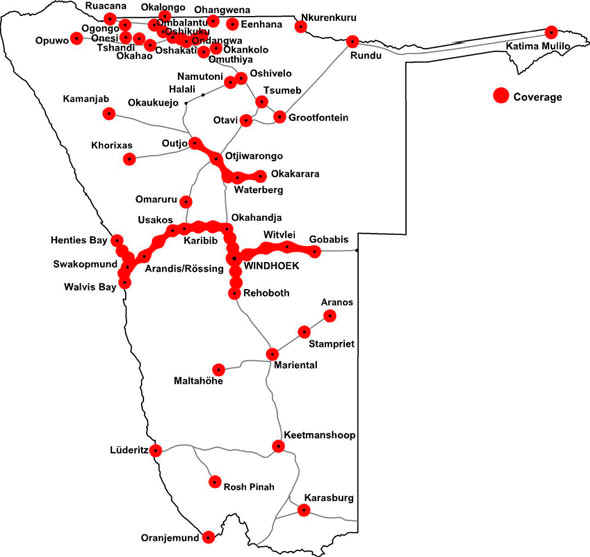 Information:


E-mail: info@namibweb.com
Page created and serviced by



www.namibweb.com

Copyright © 1998-2023 namibweb.com - The online guide to Namibia
All rights reserved | JOIN | VIDEO PORTFOLIO | VIDEO/PHOTO COLLECTION
Telegram | YouTube | Blog
Page is sponsored by ETS & Exploring Namibia TV
Disclaimer: no matter how often this page is updated and its accuracy is checked, www.namibweb.com and ETS
will not be held responsible for any change in opinion, information, facilities, services, conditions, etc. offered by
establishment/operator/service/information provider or any third party