Visitors book & testimonials
Here you can read some our guests' opinions about us and our services.
We welcome and appreciate your contribution to our visitors book.
We Ozzies really enjoyed our day with you and we would like to come back to Namibia again. Happy festive season and prosperous 1998!
Ian, Val and Fiona Donald, Melbourne, Australia
Наверное это был самый лучший отдых в моей жизни!!! Спасибо, большое спасибо.
Сандра Саука, Сергей Мальцев, Рига, Латвия
I am thankful to you for your company and friendly chat during the tour. I enjoyed it a lot. Thank you once again.
Ramesh Kumap, India-Singapore
De "trip" door Windhoek was ontzettend mooi en interessant. Je hebt ons veet laten zien.
Adri, Holland
We have had a fantastic day today. The trip to Cape Cross was very interesting and one that we shall never forget. Thanks for making it an interesting and informative trip. Best wishes.
Colin, Anne, Brian, Alan and Nina, England, Australia, Canada
We have had an extraordinary day. Thank you very much.
Brian Jones, Ottawa, Canada
Thank you for a most enjoyable morning. A great day for Irish-Russian relations in Namibia!
R. S. Higgins, Ireland
Thank you for your nice guiding. I have had a very nice time with you. See you again. Please come to Japan.
Miyuki Mori, Japan
It has been a great pleasure to have you as a driver and a guide for these days. We have learned a lot about Namibia's nature, wildlife and history. We wish you luck in the future for yourself, your family and your company. We are convinced that you will be successful whatever trade you will choose to follow.
Erik Wasell, Britt-Marie Axel, Clara, Stockholm, Sweden
Спасибо за помощь в открытии для нас Намибии. Успехов тебе в бизнесе, любви. Обязательно встретимся с тобой в другой раз.
Григорий, Вениамин, Виктор, Геннадий, Саратов, Россия
We have had a very nice one-day trip to Swakopmund. We are very satisfied with all you have told and showed us. We will recommend our friend the ambassador of Sweden that she can tell her visitors that they can have a delightful trip with you. Many thanks and we wish you a success.
Irene and Lans Erik Hyltefors, Sweden
I had a wonderful day amongst leopards and cheetahs-thank you so much, I'll be back.
Amanda Evans, London, UK
Thank you for a wonderful day, we enjoyed it! Seeing Windhoek through your eyes meant a lot to us. May God bless you, your wife and child in Southern Africa and the best wishes for the future.
Rene and Stefan van der Merwe, South Africa
Дорогой Сергей! Спасибо вам за приятное путешетвие на ферму "Дюстернбрук". Это самые яркие впечатления от пребывания в Намибии. Благодарим за внимание к нашей группе. Надеемся увидется снова на намибийской земле.
Национальная группа Казахстана
Dear Sergei! It was impressive to see many bats. Thank you for giving me interesting experience.
Motonaka Otani, Japan
Сергей, большое спасибо за тур. Все было замечательно. Страна понравилась.
Владимир, Наталья, турфирма "Ивелия", Россия, Москва
Dear Sergei! I had a really good time. Thank you for your kindness. Some day I wish come here again. See you next time.
Isehara Kazuhiko, The Asahi Bank Ltd., Japan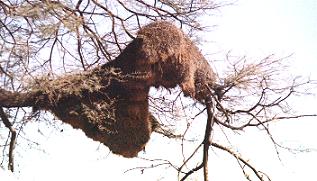 Sergei, thanks a lot for the great tour. Good luck with your business and maybe see you again.
Mark van Tol, Netherlands
Many, many thanks, Sergei, for a fantastic trip through a fantastic, fantasy land.
Mary Stephano, USA
I know this man - "he is Russian". We have had a wonderful time, seen beautiful sights, experienced great weather. Thank you for a very safe and informative trip, Sergei.
Moira and Kevin Cassie, Newcastle upon Tyne, UK
You did an excellent job, Sergei. It is gratifying to think that there are people in this world who actually appreciate feedback ---
negative, or not!! You've created a beautiful website, which I will enjoy exploring! 

Thank you!
I have found your website and the services you offer truly amazing.  I'll definitely make my reservations for a
planned future visit to Namibia through you. Thank you!
Sergei -
Thank you very much, and I will mention you as a most valuable source of helpfulness and information.  If there is anything that I can possibly help
YOU with, please let me know.
G'day Sergei,
Thanks again for your help. E-mail is fantastic, and I have told them what you have so kindly done for me.
Thanks for the info - your website is great and has helped us tremendously in planning our trip.
Dear Sergei,
We got back ok last Saturday. We want to thank you very much for organising everything so well. We really had a fantastic holiday
and are looking forward to returning in about 18 months time. Every place we stayed was nice, clean and comfortable. We were
particularly impressed with Landsberg (Wilfred and Annelise were excellent hosts) and Bambatsi (Rudi and his family made our stay
memorable). All the National Parks accommodation was superb especially Waterberg. Bye-until our next holiday.
Hi!
Thanks a lot for your friendly information! You understood my question very well! Have a good time and thank you so much!
Hello Sergei,
Once again - thanks so much for all your help to making us the reservations. Have a wonderful day.
Johanna Woehrstein, Germany
Multilingual, hugely informative online travel agent and information source. Useful links and details of internet cafes.
FOOTPRINT Namibia Handbook, 3rd edition
Thanks again for your services, we are still dreaming about Namibia and I really hope we will come back again. Good luck.
Dear Sergei,
After returning safe home from our trip in Botswana, Namibia and South-Africa, I want to express my gratitude for the good cooperation during the reservation,
the changing of dates and places. All reservations you made for us were OK, we did not experience any problems. Especially Etosha, the seal reserve, the
Fish River Canyon and Deadvlei we will remember as the most wonderful places. We always were treated very polite by all people. We had a very
extraordinary holiday and we were all three very satisfied. Thanks again.
Hello Sergei: about 32 hours after you picked us up at Pension Moni, we opened the door to our own house back in Canada. Thank you for everything
you did for us...it was a great trip, one that we shall never forget.  Perhaps we shall meet again. One thing is for certain...if anyone over here wants
to follow in our footsteps I shall certainly recommend your services. Good luck to you, your family and your new adoptive country.
We are now home after a wonderful holiday in Namibia which we all really enjoyed. Thank you very much for all your help with the organisation and
bookings. We would certainly recommend this sort of holiday to our friends. Best wishes.
Hello,
You arranged a boat trip for me two weeks ago with Levo tours while I was on holiday on the QE2. I just wanted you to know that the boat trip in Walvis
Bay was wonderful. Our skipper, Johann, was great. There were six people on our boat, and we saw seals, dolphins, pelicans and flamingos, and we
drank champagne and ate fresh oysters. It was a wonderful day and a highlight of my trip. Be assured that I will recommend Elena Travel/Levo Tours to
anyone I know who will be in your area. Thanks!
I would like to congratulate You with your web page. We will link you up to our web and be sure we will promote your very beautiful web.
Petter Johannesen, The Honorary Consul of Namibia for Italy
Dear Sergei,
Thank you for your prompt service regarding the bookings for Ai-Ais. We have just returned home and everything went off without a glitch. This is therefore
just a big thank you for your excellent service. I will most definitely recommend Elena Travel Services to all my friends who intend travelling to Namibia.
We plan to return to Namibia in 2005, and will definitely be in touch.
Thank you again.
Kind regards
To Elena Travel,
I just want to thank you for all the effort you have made to do the reservations for our trip to Namibia. We were accommodated with all the hospitality you
could think of. Every one of the guest houses were of a high standard and the owners assist us with details of what we could see in the surrounding area.
Our group ask me to thank you especially with your choice of accommodation because one can easily be disappointed with a bad overnight place after a
long journey by car. Everything worked out as planned and I was impressed with the owners friendly attitude even when we have arrived late in the evening.
On behalf of our tour group we thank you again and wish you all of the best.
Johan Le Grange
Klerksdorp, South Africa
Dear Sergei!
We are back from our vacation to Namibia and we will let you know that all campsites were we had a reservation through you were okay. All the locations
did know that we should come and we had no problems. We want to thank you for that. We had a great time and we should recommend your travel
agency to others. Thanks again.
Family Jansen from Holland
Dear Mr. Mitrofanov,
We are back home from our memorable trip to your marvellous country. We enjoyed our vacation very much. All your bookings were ok, we felt best
accommodated in the selected lodges as well as on and the guest farms and our car lead us safely over 4000 kilometers through the country. We were
astonished about the big variety and quantity of animals and were glad that the mosquitoes "did not show up" in our environment. We all would like to thank
you once again for your prompt services and I can assure you that we shall recommend your travel agency to our Swiss friends who are interested in visiting
your country!
Thank you so much for arranging an outstanding trip to Sossusvlei. The guide/driver was excellent...a very helpful, and nice man. I couldn't have been
more pleased with the service. Zebra River Lodge was great accommodation with wonderful cooking.
I was also very happy with the SWA Safaris Tribes of Northern Namibia. The accommodations were great, with an excellent guide and 2 nice German couples.
Being the only non-speaking person on the tour this could have been a problem...but everyone was so nice and went out of their way to speak or translate
into English. The sights were amazing. Enjoyed everything: so many wild animals, interesting visits to the various tribes and great meals and scenery.
I hope to visit your beautiful country again and to use your services in the future.
Sincerely,
Dear Erica 

Thanks once again for your assistance with our bookings. All went exceptionally well and I will definitely recommend your services to all my fellow
caravan-club and 4x4 club members. It also my intention to share our touring experience with some of the outdoor magazines in South Africa
and will make sure to mention the excellent service received from Elena Travel Services.
Hi Erica

Once more I thank you for your professional service and you can be rest assured that I would highly recommend you to my friends and family. I would 
certainly use your services whenever I visit your beautiful country!
Best regards
Dear Sergei

Last summer (Namibian winter) we had the most fantastic trip to Namibia - especially due to the expertise of Elena Travel and the highly
qualified assistance from you, Erica Gaweses and your wife. Everything worked out perfect - we stayed great places, experienced impressive
landscapes and amazing wildlife - and we were even taken good care of during the SAA strike. So, we strongly recommend your company -
and Namibia in general - to everybody considering such a trip.
Best regards
Erik Mandrup Jacobsen
Denmark
Back again in Denmark, I wish to inform you that the safari was very successful, even if many animals had left the waterholes. I (and you) had
a very competent guide, and I enjoyed every minute.
Dear Fiona,

Thanks for the excellent services I got from You. If any of my friends will be planning a trip to Namibia I'll prefer to contact You and your company.
Best Regards
Hi,
I am a Namibian currently living in Manhattan Kansas. I recently stumbled across your website. I am very pleased with the excellent overviews and 
links provided. It is a great source of information. The link to aircraft rentals and the "how to" was very helpful in particular, as I recently 
obtained my pilot's license. But also the links to safari operators, history etc. are great. I have referred several Americans to your site.
Congratulations and thanks. Good work, keep it up (and please keep it up to date).
Our web site has been mentioned in Lonely Planet guide in 1999 Zimbabwe, Botswana & Namibia edition,
2002 Namibia only edition, Footprint Namibia (3rd edition) guide book and autumn 2001 edition of Exotic Places to Retire.
Our company participated in providing service for the following delegations that visited Republic of Namibia:
state visit of the President of  Indonesia  (November 1997), visit of the Russian Parliamentary delegation on IPU
(April 1998), delegation of Mozambique on World Economic Forum (May 1998), state visit of the Prime Minister of
India (August 1998), delegation of Southern African Research and Documentation Centre (SARDC) (National elections,
November - December 1999). Our guests included a representative of the Library of Congress Office (Embassy of the
USA in Nairobi) and Director of the Bank of Vatican.
Page created and serviced by



www.namibweb.com

Copyright © 1998-2023 namibweb.com - The online guide to Namibia
All rights reserved | JOIN | VIDEO PORTFOLIO | VIDEO/PHOTO COLLECTION
Telegram | YouTube | Blog
Page is sponsored by ETS & Exploring Namibia TV
Disclaimer: no matter how often this page is updated and its accuracy is checked, www.namibweb.com and ETS
will not be held responsible for any change in opinion, information, facilities, services, conditions, etc. offered by
establishment/operator/service/information provider or any third party