Sergei Mitrofanov
Author of this site, owner of the company and big fan of Namibia.

Dear visitor!
Maybe it is not the most

interesting page on this site for you but I have finally decided to introduce myself.
As we used to say in Russia people must know their heroes.
I was born in Russia, Moscow and came to Namibia at the age of 25. Most frequently asked question is: how? And I always reply: exactly the same way you, dear visitor, have come here or expect to come: by plane. Yes, Russians are also allowed to fly now (unbelievable!) and sometimes they do speak English. So five years ago I flu from Harare via Victoria Falls and landed in desolated airport in the middle of a desert (I thought so) ages from city centre.

My tour guide training was tough

My first impression driving through empty mountains was that I made a mistake and there are only two living creatures here: myself and a taxi driver. I had a picture in my mind of myself staying in a long queue to buy fresh water every day.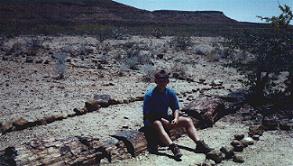 Reality was a bit brighter. I fell in love with Namibia (it happens sometimes). Its climate, people, early and short evenings somewhere in the bush with a scent of dry grass, enormous piece of Oryx above the open fire and ice cold bottle of Tafel.
I started my business in 1997 with an old VW microbus I bought in South Africa.
When I heard of NATH courses for tour guides I decided to join.



What a country! Even forest is petrified! (My Scottish cap is just a camouflage)

I liked to be a guide. I like to see people's curiosity and expression of joy when they see their first antelope.

After these years my sincere belief is that although nobody is perfect and you are free to like or do not another person, you all as our visitors must be taken care of. It is you who provide our country with much needed income and Namibian people with employment opportunities (including myself).
Besides during this time spent in Namibia, I have met so many people from so many countries, I have made so many friends that perhaps I wouldn't do in my country.
Since I started my site in 1999 my Internet hobby became main sources of contacts and bookings and, of course, the biggest consumer of my time.
That is all from me. Enjoy my site and let me know if I can send you more information!
I did not burnt this mountain!

Page created and serviced by



www.namibweb.com

Copyright © 1998-2013 NamibWeb.com - The online guide to Namibia
All rights reserved
Disclaimer: no matter how often this page is updated and its accuracy is checked www.namibweb.com and ETS will not be held responsible for any change in opinion, information, facilities, services, conditions, etc. offered by establishment/operator/service/information provider or any third party