| | |
| --- | --- |
| Mobile Safari Expeditions & Kubu Island | |
A unique opportunity to combine three nights at Jack's Camp with an epic quad bike journey across the pans and two nights spent sleeping out under the stars amongst the boulders and baobabs on Kubu Island. One of the most graphically beautiful spots in Botswana, it is full of intriguing detail, such as stone walls, trade and Bushman beads. It is also close to what is probably the biggest greater and lesser flamingo breeding site in the world.
The best way to get across the saltpan is to fly like the kites and the crows, otherwise it is a quad bike. This is low-impact trespass. Setting off early in convoy, bikes carry bedrolls, food and water, a long-range desert patrol driving Indian-fashion. Here you lose contact with time, space and direction.
You hum along, travelling without perceptively moving, while all the power and conceit of commerce and position evaporate, the delicate network of friends and plans and diaries, all the human hierarchy of achievement and aspiration ebb away.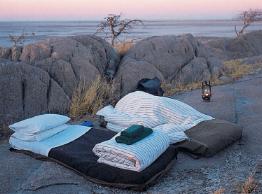 As the sun begins to drop, a smudge on the horizon - Kubu Island! A 2.7 billion year old granite fist that rises unexpectedly out of the vast and empty salt pan flatness of Sowa Pan.

The camp staff will get there first; boiling a cauldron of water bubbles for the shower suspended from a tree. The dining table is set and the drinks tray, with Beefeater, and Georgian fobs on bottle labels, stands waiting. A mobile drinks chest is set up by our trusty team and Guests are able to lean back in their safari chairs while toasting their toes around the roaring camp fire.
Dinners are three course culinary extravaganzas, laid out on white damask table linen, decked with fine glassware and bone-handled silver. An embarrassment of riches in this extraordinary and desolate domain! The next two days are spent exploring the fascinating and surreal surrounding area.
The Makgadikgadi was once a great inland sea. The remaining salt pans are the size of Switzerland, a fact that is difficult for many to comprehend... Around the edges are incongruous dunes of seashells, thousands of miles from any coast. There is the clock-stopping frisson of picking up something that was last touched 10,000 years ago by a man who looked over the horizon and could not imagine that his chipping this flint would lead to jumbo jets and skyscrapers. There are tiny beads, glass and stone and ostrich shell that the bushmen used as decoration for thousands of years. Some are Phoenician and Roman and even Chinese; beads were currency for salt and the salt cakes that glisten like icing sugar on the pan and have been traded by the Bushmen for millennia. 30 000 flamingo fledge in the vicinity when water is good and although the mud mound nests are deserted at the times of the year when we are able to visit Kubu, they are still an extraordinary sight.
After two days of luxurious desolation, Guests mount their quad bikes to journey back to Jack's for an evening of surreally contrasting sumptuous relaxation! The most important aspect of these trips is that it gives the Guests a chance to truly understand the Makgadikgadi Pans. There is the sense of true adventure and active involvement. The Kalahari is a place of extremes and metaphor and allegory, it shuffles your deck, rearranges the cerebral furniture, messes up your priorities... It is the perfect unrest cure!

MOBILE SAFARI EXPEDITIONS
Uncharted Africa Safari Co. can take you to places that are closed to other operators because of our impeccable conservation track record.

Our luxurious tented camps on exclusive sites, place you in the heart of nature in the greatest comfort.

Safety, security and serenity are our core values.

Moremi Game Reserve and Okavango Delta

Game and Water: Explore the Moremi Game Reserve and the Okavango Delta

Bushmen Safaris

Loincloths & Beetles: Visit the Bushmen in a remote settlement in the Western Kalahari

Deception Valley: Penetrate the remotest corners of the Kalahari desert

NXAI Pan

Sleeping baobabs & Springbuck: Discover a once long-forgotten but, very important, fossil pan in the Eastern Kalahari
Kubu Island
Rates per person per night, full board + activities: on request
| | |
| --- | --- |
| Single supplement | - |
| Per person sharing | - |
| Private Vehicle & Guide | - |
KUBU EXPEDITIONS OPERATE FROM 15 MAY to 30 SEPTEMBER - RAINS PERMITTING. MIN 4 PAX
Camp Information
Kubu Expeditions operate from Jack's Camp

12 bedrolls under the stars: Bucket shower & Bush loo

Minimum age is 8 years.

Expert Zoologist/Biologist Guide included in the rate
MOBILE SAFARI EXPEDITIONS
Rates per night: on request
| | |
| --- | --- |
| Per person sharing, no single supplement | - |
MOBILE EXPEDITIONS OPERATE YEAR ROUND. MIN 20 BEDNIGHTS PER SAFARI
Camp Information
6 Twin Tents: En-suite with outdoor Bucket shower & Bush loo

All ages welcome!

Expert Zoologist/Biologist Guide included in the rate
Related links:
Contact & reservations:


E-mail: info@namibweb.com

To book:
1) you can e-mail us requesting information and/or rates

Reservations are only accepted in writing: by fax or via e-mail.
Final availability confirmation: in writing: by fax or via e-mail.

Terms & conditions, Payment options and Cancellation policy
Page created and serviced by



www.namibweb.com

Copyright © 1998-2023 namibweb.com - The online guide to Botswana
All rights reserved | JOIN | VIDEO PORTFOLIO | VIDEO/PHOTO COLLECTION
Telegram | YouTube | Blog
Page is sponsored by ETS & Exploring Namibia TV
Disclaimer: no matter how often this page is updated and its accuracy is checked, www.namibweb.com and ETS
will not be held responsible for any change in opinion, information, facilities, services, conditions, etc. offered by
establishment/operator/service/information provider or any third party
Description & pictures: Copyright © Uncharted Africa Safaris