Location of Helmeringhausen Hotel
The hotel lies in the tiny settlement of Helmeringhausen in southern Namibia. It was founded during the German colonial era as a farm by a member of the Schutztruppe. Later it became famous for its Karakul sheep breeding. Hotel Helmeringhausen is the ideal stop-over on the way from Fish River Canyon or Lüderitz to Sesriem and the Sossusvlei, to the Naukluft, to Duwisib Castle or to Maltahöhe and Mariental. Hotel Helmeringhausen offers peace and tranquility at the edge of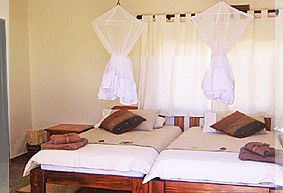 the Namib Desert. Relax in comfort at our swimming pool, enjoy a cold beer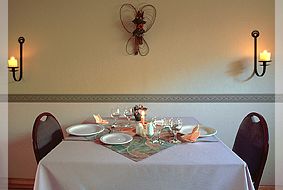 at hotel's sociable bar. Excellent food and personal service are guaranteed in the unique and friendly country hotel. Hotel Helmeringhausen offers 22 well-appointed double rooms. All rooms are en-suite. A hearty breakfast and a 3-course dinner are served in our cosy restaurant.
Hosts are now able to pamper 44 guests simultaneously with special Namibian cuisine's, excellent wines, a great swimming pool area, cozy bar, as well as excellent advice on which routes to take and where to go to make every tourist's vacation a memorable one! Safe parking is available in front of the rooms.
Hotel Helmeringhausen boasts a good traditional pub with satellite TV. Enjoy a cold beer, a glass of Cape Wine or anything else you fancy - the pub is well-stocked. Listen to local news and exchange travel experiences. Hosts also have a cosy lounge with comfortable sofas, fireplace and piano.
And after a long day of desert driving you will enjoy to cool down in our crystal clear swimming pool. An outdoor beer- & coffee garden amongst the existing lush garden contributes to the great atmosphere of this remote place. Light lunches and cold beer are offered to tired tourists after all the gravel travel, whilst shoppers can buy souvenirs at the curio shop.

Right next to the hotel lies the Agricultural Museum of Helmeringhausen, founded by the local Farmers' Association. It displays interesting farming implements - such as water drilling machines or fire fighting coaches - used in the olden days. Entry is free and you will get the key in the hotel.
The Hotel is part of the historic 10 000 ha Farm Helmeringhausen. Game drives and hiking trails are available on request.
Rates per night: on request
Bed and breakfast/dinner, bed and breakfast per person
Single/double/family room
-

Camping, no meals

Per site
-

Activities per person

Veld drive, minimum 4 persons
-
Sundowner & veld drive
-
Notes:
Rates are subject to change without prior notice should tax be increased or Government levies introduced. Rates include Value Added Tax.
Contact & reservations:
E-mail: info@namibweb.com
Reservations are only accepted in writing: by fax or via e-mail.
Final availability confirmation: in writing: by fax or via e-mail.
Terms & conditions, Payment options and Cancellation policy
Page created and serviced by



www.namibweb.com

Copyright © 1998-2023 namibweb.com - The online guide to Namibia
All rights reserved | JOIN | VIDEO PORTFOLIO | VIDEO/PHOTO COLLECTION
Telegram | YouTube | Blog
Page is sponsored by ETS & Exploring Namibia TV
Disclaimer: no matter how often this page is updated and its accuracy is checked, www.namibweb.com and ETS
will not be held responsible for any change in opinion, information, facilities, services, conditions, etc. offered by
establishment/operator/service/information provider or any third party
Rates, images & description: Copyright © Hotel Helmeringhausen