Bumhill Camp Site Caprivi

Closed for an indefinite period
Bumhill Camp Site, built according to ecologically sustainable principles, is situated on the banks of the Kwando River in BwaBwata National Park (previously Caprivi Game Reserve). In Bumhill you can enjoy an abundance of exciting wildlife: especially Hippo and Elephant roam the surroundings of the campsite. You can also go on day-trips into BwaBwata National Park. Bumhill offers three standard ca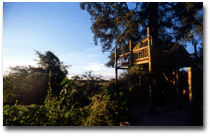 mping sites with separate braai areas. The ablution and kitchen block is shared by the sites. Please note that there is no electricity. Water is available for purposes of hygiene. As it is not suitable for drinking you are advised to bring your own supply. There are also three exclusive sites with en-suite facilities (toilet, washbasin and hot shower) and a private braai area. Each of these sites sports a 3-m-high deck which overlooks the river.

Bumhill and another camping site in the vicinity, Nambwa, are the result of a unique agreement between the Ministry of Environment and Tourism and the communities adjacent to BwaBwata National Park. For the first time in Namibian history local communities have been permitted to develop and manage two campsites in a National Park on the basis of their respective conservancy structures. Conservancy management is in charge of wildlife in the communal areas bordering on the park. The management is also responsible for ensuring that income derived from the campsite is used for conservation and for the benefit of the local communities.

To emphasize the significance of these developments, Bumhill has been set up in such a way that design and ecologically sustainable building combine into a unique product which will guarantee a memorable experience. Bumhill and Nambwa are the exciting result of a combined effort of the Ministry of Environment and Tourism, Integrated Rural Development and Nature Conservation (IRDNC), Nacobta and two conservancies. With both these new campsites a true asset has been developed for Namibia's tourism sector.
Bumhill Camp is located on the banks of the Kwando River, 2 km west of Kongola.
How to get there: Travelling on the Trans-Caprivi Highway (B8) from Kongola towards Bwabwata National Park you arrive at the turn-off to Bumhill just 300 metres after passing the park's eastern gate. Bumhill is close to the main road and very well accessible without four-wheel drive.
Booking fee applicable (once-off).
Contact & reservations:
E-mail: info@namibweb.com
Reservations are only accepted in writing: by fax or via e-mail.
Final availability confirmation: in writing: by fax or via e-mail.

Terms & conditions, Payment options and Cancellation policy
Page created and serviced by



www.namibweb.com

Copyright © 1998-2023 namibweb.com - The online guide to Namibia
All rights reserved | JOIN | VIDEO PORTFOLIO | VIDEO/PHOTO COLLECTION
Telegram | YouTube | Blog
Page is sponsored by ETS & Exploring Namibia TV
Disclaimer: no matter how often this page is updated and its accuracy is checked, www.namibweb.com and ETS
will not be held responsible for any change in opinion, information, facilities, services, conditions, etc. offered by
establishment/operator/service/information provider or any third party
Description & picture: Copyright © Bumhill Camp Site